Acer unveils a pair of small and affordable Android tablets -- Iconia A1 and B1

When Apple released the iPad, it was a game-changer. The 9.7-inch form factor became the effective and default industry tablet size. In other words, a tablet was that size because the iPad was, and it wasn't challenged. However, Google disrupted this thinking and released the Nexus 7 in 2012. Not only did the 7-inch tablet become wildly popular, but it created the belief that a small tablet was usable and desired. Heck, even Apple jumped on the smaller-tablet bandwagon with iPad Mini.
Sadly, the small Android tablet market that was carved out by the Nexus 7 has become littered with trash. You see, many manufacturers have made the small tablet form factor synonymous with both low cost and low-quality. Today, Acer announces two small tablets that are inexpensive, but definitely not trash -- the Iconia A1 and B1.
Both of these tablets are rather inexpensive and run Android 4.2.1. However, the similarities pretty much end there. One tablet is aimed at feeling premium, while the other is unapologetically low-end.
Acer Iconia A1-830 -- $149 USD (Available Quarter-1, 2014)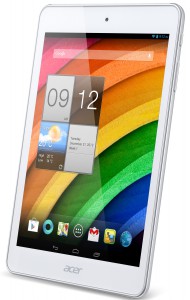 "Our fundamental goal when creating the Acer Iconia A1-830 was to provide our customers with an optimized Android tablet that stands out from other devices. Consumers expect more than ever from value-oriented products, and the Acer Iconia A1-830 tablet delivers outstanding performance and battery life, a bright IPS display and a more premium aluminum metal finish than is typically offered in tablets in this class", says Paul Tayar, director of product marketing, connected devices, Acer America.
In other words, Acer has created a premium tablet at a budget price. This is no surprise as I typically associate the manufacturer with value and "bang for your buck". The company also makes the affordable yet celebrated C720 series of Chromebooks.
The 7.9-inch tablet has a Clover Trail x86 Intel Atom processor (Z2560 1.6GHz processor) and 1GB of RAM. You typically do not see Intel processors for Android at this price point. While not a newer Bay Trail processor, it should still be sufficient for most things. However, not all is roses with an Intel processor. Most Android apps are created for ARM and if they are not optimized for x86, there can be performance issues and slowness.
The tablet has an IPS display, but it is not 1080p. Instead, the resolution is 1024 by 768 -- passable on a small screen. Luckily, it also has dual speakers for improved stereo. Watching movies and listening to music should be as expected.
I am most intrigued by the hackability of a small and inexpensive x86 tablet. While there is no guarantee it can run full Linux distributions (Ubuntu, Fedora, etc.) or Windows 8, the possibility is there. I have no doubt that some hacker somewhere will at least attempt running alternative operating systems.
The 2013 version of the Nexus 7 has been selling for $199 lately, so it is a slightly hard sell to offer this at only $50 less. Sure, the screen is bigger, but the resolution is worse. I think Acer did a smart thing by using an x86 processor -- that will be the selling point and differentiation from Google and Asus' 7-inch tablet.
Acer Iconia B1-720 -- $129 USD (Available mid-January)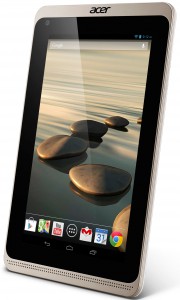 "The tablet is ideal for new users or families looking for an additional tablet for their children. The thin design and narrow bezel of the 7-inch Iconia B1 makes it perfect for e-reading, web browsing, playing games and watching videos. The new back cover provides a comfortable touch with a silky finish and textured pattern, with two color options on the front bezel in gray and red", says Acer.
Acer further explains, "the new Iconia B1 features a 10-point touch display encased in a slim bezel and supported by One Glass Solution technology, which makes the display thinner and brighter. One Glass Solution also gives the user a closer touch experience with objects on screen. In addition, both speaker and microphone are placed on the front to provide higher volume, more immersive sound for music and video enjoyment, and clearer voice quality for video calls".
Whenever I hear a company say that a tablet is ideal for children, I think "this thing probably sucks". However, a second, inexpensive tablet for a family does have its place. After all, you don't want to hand a $500 iPad to a toddler.
Acer does not provide details about the processor other than to say it is a dual-core 1.3Ghz variant. Because of the very low cost, it can safely be assumed that it is a low-end ARM processor. This budget 7-inch tablet will also come with 1GB of RAM, which should be sufficient for most tasks.
Conclusion
Is there any room for more budget Android tablets? Or should all consumers interested in a small Android tablet just buy a Nexus 7 instead? Tell me in the comments.