Roku announces its software is coming to Smart TVs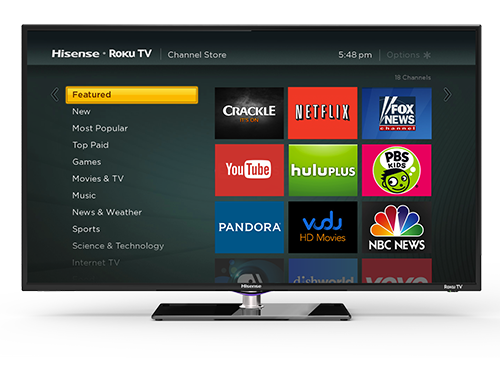 Roku has been making its tiny set-top boxes since 2008, and it continues to refresh the lineup and add new features and channels. Now the company announces it is also thinking outside the box, launching its software on upcoming Smart TVs.
Roku has partnered with hardware makers Hisense and TCL to build the sets. The new panels will come in a range of sizes beginning at 32-inches and going up to 55.
"Just like Roku streaming players, Roku TV will have full access to the Roku Channel Store filled with more than 31,000 movies and 1,200 channels that feature TV shows and live sports plus news, music, kids, food, science, tech, fitness, foreign language and other programming -- more options than all the other Smart TVs in the market", the company announces.
The new sets will be able to be controlled via mobile apps for both Android and iOS, but will also come with a traditional remote control, which Roku pledges will be simpler than many of today's models.
The new TVs will become available in the fall of this year although pricing has not been announced as of yet. Roku promises it will still continue to make its set-top boxes as well.