Identify unknown PC hardware with PCI-Z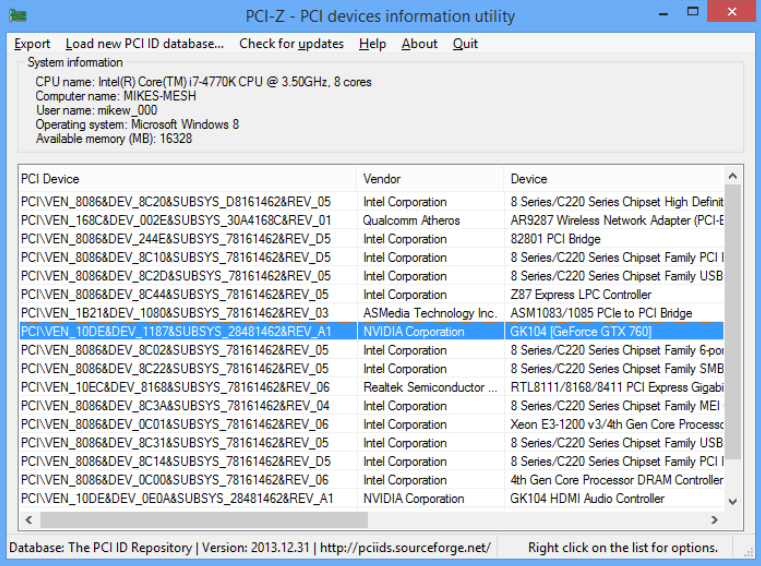 If you need to know more about your PC's hardware then running any system information program -- or even just Device Manager -- will usually point you in the right direction. But sometimes it doesn't quite work, and you'll find some devices are referred to as "unknown", or perhaps by their PCI identifier ("PCI\VEN_1B21& DEV_1080& SUBSYS_78161462& REV_03", or something similarly cryptic).
PCI-Z is a tiny portable tool which tries to get around this problem by querying the PCI ID Repository -- a public database of device ID codes -- and returning readable names, rather than meaningless codes.
The program is a single 546KB file. It's a native Windows executable, which means you don't need .NET, or Java, and it doesn't matter if your WMI installation is screwed up: just launch PCI-Z on anything from Windows 2000 upwards and wait.
The program checks your hardware against the PCI ID Repository, gathers its results, and within a few seconds the report appears: a basic table listing each PCI device, its raw code, the actual manufacturer and device name, along with the subsystem and error message (if there is one).
Right-clicking any device displays options to copy its data to the clipboard, while the Export option can save the entire report to a CSV file for reference later.
PCI-Z isn't a program you'll use every day, but it has its place when diagnosing hardware issues, and deserves a place in your troubleshooting toolkit.