Wise Disk Cleaner 8 gains revamped interface, new configuration options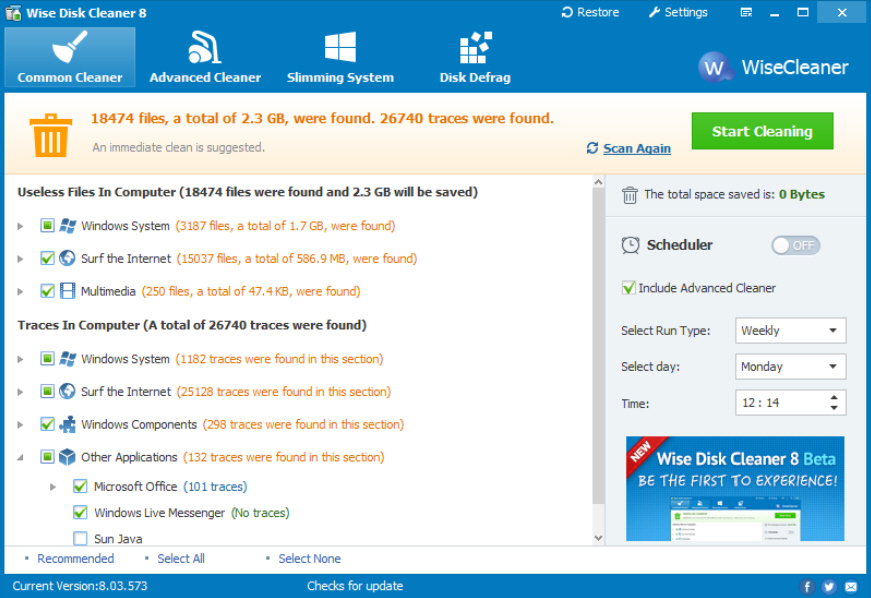 WiseCleaner software has unveiled Wise Disk Cleaner Free 8.03, a major new update of its Windows disk cleaning and defrag tool. Version 8's most notable improvement is a revamped user interface that's less cluttered and easier to follow than previous versions.
Version 8 also adds a new module that ensures all future updates -- which tend to be delivered at least once a month -- are installed automatically, plus promises customized configuration options via a user-created INI file.
The most noticeable new feature in version 8 is the revamped user interface. Like IObit's recent Smart Defrag 3.0 release, it retains the basic layout of the previous version while implementing a more minimalist, flatter theme that fits in with the Modern UI and stripped back desktop found in Windows 8 and 8.1.
Version 8 also adds support for creating a customized configuration file that allows advanced users to manually specify areas of their system -- including files, folders and Registry entries -- they wish to clean. Once created, the customized option will appear in the "Useless files in computer" list for manually selecting.
The feature has attracted some criticism from the userbase because it's potentially dangerous, but as it requires advanced knowledge to even set up -- see this forum post -- it's likely to be ignored by most users.
Other changes in version 8 include support for automatic updates -- these are configured via the program's main settings dialog and are configured weekly by default (users can switch to daily or monthly checks, or disable the feature completely from here).
The update also promises "optimized cleaning categorization" and includes auto-matching the program's language to that of the system when initially installed.
Version 8 spent a month in beta, and was released just 11 days after version 7.99 saw the light of day, which was primarily a bug fix release.
Wise Disk Cleaner Free 8.03 is available now as a freeware download for PCs running Windows XP or later.