Speed up your PC (and extend its life) with SoftPerfect RAM Disk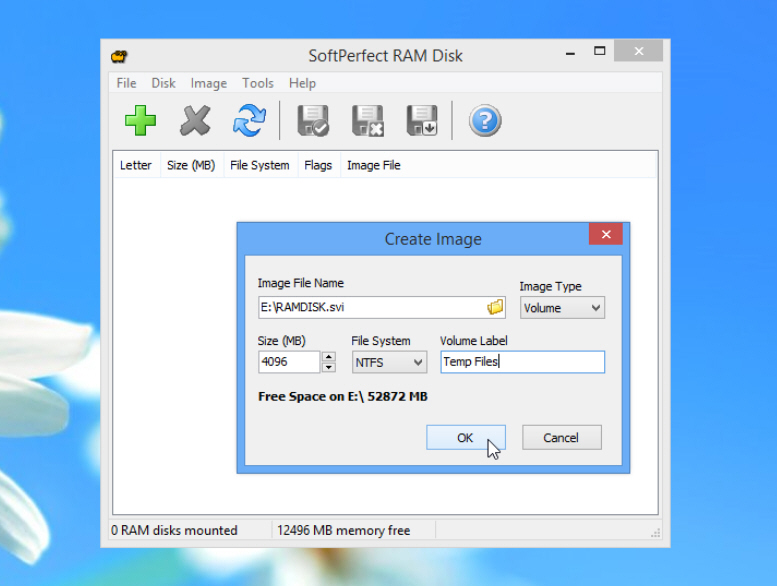 These days, our PCs are shipping with ever increasing amounts of RAM. The idea is that more RAM helps boost performance, but the fact is that if you have 8GB or more of RAM then it's likely there will be numerous times when that memory isn't being utilized to the full.
One way to make maximum mileage from systems with larger amounts of memory is with a RAM disk, and the free-for-personal-use SoftPerfect RAM Disk handles the job perfectly.
RAM disks offer faster performance and can also help extend the life of your hard drive by reducing the number of times it reads and writes data. However, RAM disks aren't permanent by default -- the RAM disk's contents are lost every time you shut down or restart your PC.
Thankfully this doesn't have to be a deal-breaker -- among SoftPerfect RAM Disk's many clever touches is its ability to store the contents of your RAM disk in a special file that's updated before you switch off your PC, then automatically restored when you next boot up, ensuring the virtual drive's contents aren't lost.
In this tip we'll show you how to create a non-volatile RAM disk, whose contents will survive the shutdown and restart of your PC. Start by downloading and installing the program -- during installation, you may be prompted to install a driver -- do so. Once complete, the program should launch automatically.
Now select Image > Create Image. Choose a location and filename for your RAM disk and set its size to no more than one-eighth of the total amount of RAM installed in your PC if it's 4GB or less (so 512MB for 4GB) or one-quarter if it's more than 4GB (so 4,096MB if you have 16GB installed, for example). Obviously the more memory you have, the more useful your RAM disk will be.
Set the file system to NTFS, give it a suitable volume label for identification purposes and leave Image Type set to Volume before clicking OK. First, the image file is created (this can take some time, so be patient and ignore any Not Responding message). Once done, click OK.
Ignore the prompt to mount the drive image -- it's not needed -- and instead click the + button. Click the folder icon to select your RAM disk file. Now choose a suitable drive letter that won't clash with anything else -- X for example -- and tick Save Contents to Image to ensure all files are saved to it before your PC shuts down. Finally click OK and your RAM disk will be mounted and ready to use -- it'll also be automatically recreated every time you start your PC in future .
From here you can start moving folders to this drive -- browser caches are a good example, as are your Windows temp folders to prevent clutter building up on your main disk. To set the latter, select Tools > Set Windows TEMP folder in SoftPerfect RAM Disk itself to manually type a path to your new RAM disk.
You should swiftly notice some performance gains depending on the files you transfer to RAM disk, plus your hard drives will thank you for putting less strain on them.
SoftPerfect RAM Disk 3.4.4 is available now as a free-for-personal-use download for PCs running Windows XP or later. A single-user license for commercial use can be purchased for $49. Multi-user discounts are also available.