Office 365 as an educational LMS? Microsoft video demos how it works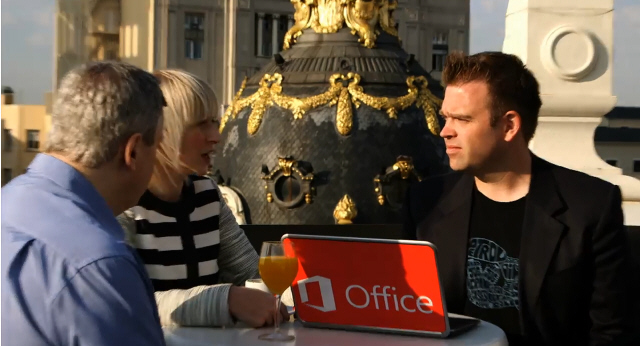 With as much time as I've spent in the education sector, as a student on one end and a high school IT specialist on the other, I know the landscape of educational learning management systems (LMS) decently well. And to be completely honest, it's a landscape rife with half-baked products delivering a fragmented me-too experience.
There's a lot to be desired from LMS environments, at least the one's I've played with in the last half decade. As a grad student at DePaul University (Chicago, IL USA) right now, I'm juggling between no less than three distinct platforms the school relies on.
Professors that run classes in the computing school wing of DePaul (CDM) have the choice to use the department's homegrown LMS called "CDM Course Online" or a commercial alternative titled "Desire2Learn" (D2L in short, as students and faculty call it). And then the University administration throws a third platform at us, called Campus Connect, which is the student-facing portal system for class registration, grade delivery, etc.
Three distinct software environments, no less, and none of them do an exceptionally great job at anything. They're all so-so in most regards; you won't find anyone on campus raving about the great experience they have in any of them. And the University is likewise leveraging each for its strengths, confusing students and professors alike in this juggling act.
Each LMS has its own nuances, settings, functional benefits, capabilities, etc. The only thing beneficial that all of them share is a single sign on profile with a unified account login. Thank god for that late 1990s era technology; I'd probably be ripping my hair out if I had to manage separate IDs for each portal.
It's not just higher education that's stuck in this LMS rut. My former high school district, and the one which employed me as an IT staffer for four years after college, basked in the same technology conundrums. They're juggling three software platforms of their own, with each overlapping in some degree over what the other offerings provide.
There is a website CMS that runs department, staff, class web pages as the "face" of the district. You've got a commercial SIS (student information system) called Aspen which was being messily custom-coded and updated around the clock just before I left my old job. And then of course there's Google Apps, the third leg of the charade that is primarily used for student/staff email, but is leveraged for Google Sites, Google Docs, etc.
A fourth now-forgotten platform that crashed and burned at the above district was Moodle. Most people don't even mention that mess anymore. But I bring it up as a case-in-point.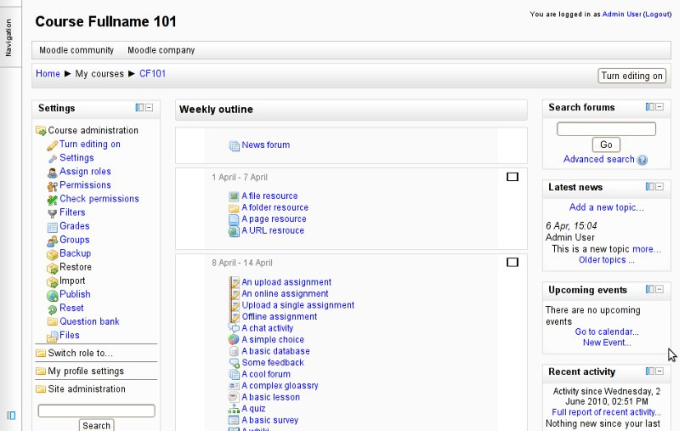 Say hello to Moodle, one of the largest open source LMS projects on the internet, free for any educational institution to use. Unfortunately, it suffers from the same clutter-brain design mentality that plagues LibreOffice today. The platform may have a lot of bells and whistles, but end user uptake at my former high school district flatlined pretty early. Can SharePoint offer a better all-inclusive experience? (Image Source: Moodle)
Both of the above scenarios are not unique in any way. I'm sure IT pros across the spectrum in the education sector can speak to similar mashup approaches their districts and universities are taking. There has got to be a better way for students and teachers (and parents) to interact. I can't imagine that this fragmented, best of breed approach is benefiting anyone but the salespeople who pawn their solutions as golden remedies for education.
We're in 2014 already, and I already advocated why my company moved from Google Apps to Office 365. It's not a question of who's got the better browser-based client, or who's offering me a few more GB of storage today. It's about the ecosystem. Anyone can piece together a Frankenstein of solutions, as the above educational examples I mentioned have done. But if we're interested in user adoption and experience at the end of the day, fragmenting our technologies into a grab-bag of anything under the sun is recipe for disengagement, pessimism, and ultimately technology rejection.
I fully believe that investing in a unified platform which delivers most of what you want is ten times better than adopting numerous, fragmented platforms that each do one thing exceptionally well. For my company, our virtual toolbox was growing too large to handle.
We had Google Apps for email and document collaboration. Podio was our work order and time entry system. GoToMeeting was our webinar and web conferencing hub. And since Google Drive really didn't care for Microsoft Office files, we continued to use a physical QNAP NAS storage box at our office. All of these systems did something really well, but none of them unified the workflow experience in any great way.
We moved to Office 365 back on Turkey Day 2013, and trimmed down 4 platforms into one common solution, with a single login, unified functional experience, and one set of processes to learn that just make sense. Email now flows through Outlook Web App/Outlook. Our trifecta of Podio, Google Drive, and the NAS gave way to SharePoint Online. And GoToMeeting/Google Chat gave way to Lync which handles all internal communication during the day and customer-facing meetings.
All of them share the same security compliance standards (like HIPAA) that Microsoft advertises for Office 365, unlike our previous approach which was a wild west of everything under the sun.
But the focus of this article is Learning Management Systems, and specifically, how SharePoint may deliver an alternate perspective on this arena. I'm not here to say that Microsoft's SharePoint is an end-all, be-all to our LMS dilemma this day in age. Besides, SharePoint is still primarily a large organization-focused document management/collaboration platform at heart. You won't find Microsoft pitching a SharePoint tent at the K-12 educational tech conferences that I've been to anytime soon.
Nor have I ever personally worked with Office 365 or SharePoint as a student or educational IT pro in an LMS-sense. I'm merely here to opine on what Microsoft has demo'd in a 20 min live video at their offices.
Besides, with as many me-too vendors in the LMS game this day in age, what's the harm in Microsoft taking a stab? It's not like the bar for success is that high to begin with.
Where Does Office 365 Fit Into Education?
The Microsoft blog post that peaked my interest on this topic launched January 2 of this year, and went relatively under the radar. The LMS arena is a rather un-glamorous space in the technology sphere, so no, I don't blame anyone for not taking notice. But as someone who loves tech like myself, and who has been rather interested in the LMS playing field the last half decade or so, Microsoft got my attention here.
Google undoubtedly has stolen much of the glitz over the last few years for its deep rooted efforts in bringing Google Apps for Edu front and center for primary and secondary education. My old high school district where I worked was one of the first big high school districts in Illinois (USA) to "go Google" so I was knee deep in this technology for many years. It's a great product for the price tag of free.
But just like the struggles I had with Google's approach to unified communications and document management in my private sector life, I had similar headaches with the "Google way" in some aspects as an educational IT support person.
Luckily, Google isn't the only party in the free educational LMS realm. Microsoft's got Office 365 for Education (A2) which is also free of charge to verified institutions. The pieces of Office 365 that you receive as a part of A2 are eerily similar to what the E1 licensing level gets businesses that I provide consulting for. 50GB email, SharePoint/SkyDrive Pro, Office Web Apps, Lync, and 24/7 support from Redmond. On a functional level, Google Apps for Edu and Office 365 for Education are for all intents and purposes extremely similar.
But the details are in the execution, and we all know that each respective suite has a certain feng shui to it.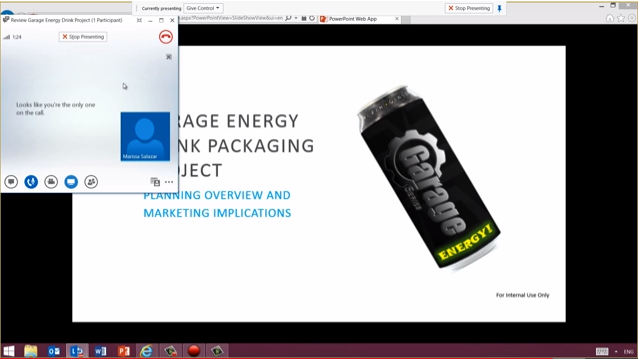 Microsoft's video shows off how students and teachers can leverage Lync for online meetings and distance learning sessions. After using both Google's and Microsoft's competing video conferencing technologies for some time now, I have to say the Lync experience is just that much cleaner. Unlike Google, Microsoft generally doesn't boycott making apps for competing devices. And Redmond doesn't force a social network (Google+) down your throat in order to use their product. All key areas I knock Google Hangouts in.
Google Drive and its Docs component will happily work with your Microsoft Office files -- as long as you are willing to convert them all into native Docs format. SharePoint and Office Web Apps don't require any conversion and will slurp up any traditional Office file you can throw them.
Google Hangouts is tied to Google+, an often-overlooked requirement for using Hangouts for group video calls (Google publicly admits it). Microsoft allows Lync users to invite anyone they want into meetings, internal or outside users alike.
Google Sites and Google Drive work decently well together for the purpose of creating class web pages and project sites. But they are still two separate apps that don't work 100 percent in unison. Microsoft's SharePoint platform can tackle all of these tasks in a single tool.
Of course, each suite can get the job done at the end of the day. But if you feel my pain from LMS hell as I described earlier, you have a different appreciation when I say it's "all about the ecosystem."
SharePoint as a LMS: Hot Air or a Viable Option?
I'll leave judgment up to others as to whether SharePoint is a feasible platform to use for LMS purposes. As I said, I've got nothing more to go on beyond my private sector experiences with the product as a cloud file server and intranet portal. I'm merely going off of what Microsoft has demo'd in its recent video blog entry.
The juicy part of the video starts at 6:15 honestly; the prior six minutes is just marketing fluff you can skip through. They start off by interviewing Jethro Seghers, a Solutions Architect at J-Solutions out of Belgium. He discusses with the interviewer on how distance learning has been buoyed by students and professors that are leveraging Lync and recording class sessions for later viewing.
As someone who is going to grad school right now as a distant learner, I can speak first hand about how awesome such technology is. To not have to travel downtown for class after spending a full day consulting with clients is a godsend I wish I was afforded during my undergrad years. And I can honestly say that using Lync compared to the homebrew solution my school has now would make the experience quite a few notches better. But I digress.
Jethro also covers how SharePoint, and the Office Web Apps specifically, offer native language translation for international students. This is huge -- not for me, but for foreign students who I see struggling in my classes when they get documents that are naturally all in English. Having the capability to translate such documents on the fly is a feature that I see enabling better geo-global learning for distance students, regardless of what native tongue they may come from.
After Jethro's interview on conceptual usage of Office 365 in the distance learning scenarios, Microsoft finally demos how these tools work together in real life. Yes, most of this was canned and prepped for this segment, but that doesn't devalue the positives behind what this tech can offer educators and students alike.
First off, a demo class web page was shown for a hypothetical "Marketing 302" college course. A discussion board, shared document center, and class site sections were all displayed and visible in this working demo. The site itself clearly runs on SharePoint, as if the logo in the upper left corner didn't give it away: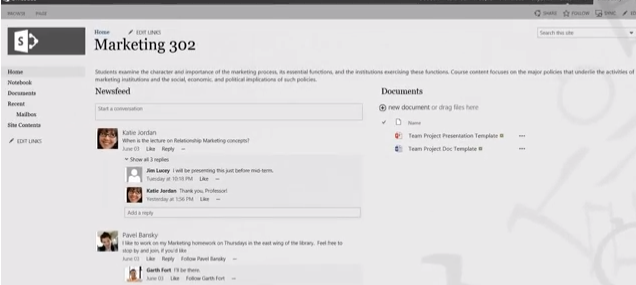 While I have never thought of SharePoint in a LMS sense, it actually does seem like it may have the prowess to compete with the other big players. All of the underlying pieces that students and teachers are yearning for are present. Document sharing, calendaring, discussions, intranet-esque page design, and of course, tight permissions for users. Whether it delivers in the end is hard to say, but Microsoft sure makes it look smooth in their demonstration.
The two Microsoft employees who are the students in the video then go on to portray their usage of the various Office 365 technologies for a class project they've been tasked with. One of the students happened to miss class one day, as the story went, so OneNote notes were shared between the two: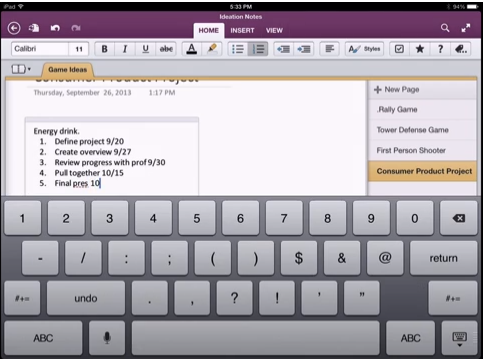 And it's pretty clear that the above shot was taken from an iPad, not a Windows device. Microsoft is hitting Google pretty publicly where it hurts in insinuating that their cross-platform support is far superior -- and I have to agree. Being a Windows Phone 8 user myself, I felt the shock of not being able to get Google Maps or Voice on my Win Phone. Yet when I was on Android, I had access to a full array of Microsoft apps like SkyDrive, Lync, etc. For those who say Google doesn't play favorites, guess again.
Of course, a video demo wouldn't be complete without showing off a project collaboration site that the students used with their group. While not displayed below, the video shows off how the project team was able to use a shared Tasks app in SharePoint to pinpoint progress on their endeavor at each step of the way: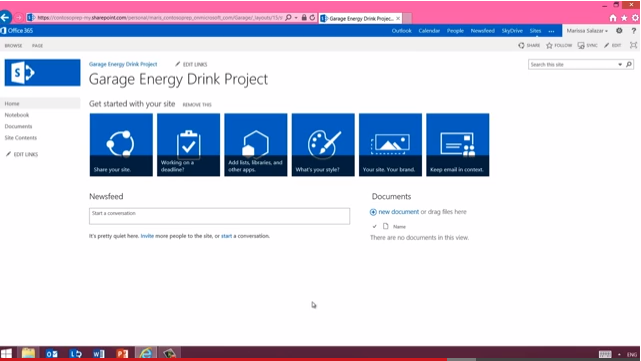 To round out the scenario, the two show off how they touch base on Skype and handle a professor meeting over Lync. All plausible situations for a modern class.
As merely a proof-of-concept, the video does win me over. I would have much preferred to see the suite in action at a real life college or high school setting, as that is where the battle for the hearts and minds of administrators, teachers, students, and parents is taking place right now. But it is what it is, and for what it is, the video does a good job in showing an alternative approach to what the fragmented LMS scene has yet failed to achieve. Harmony.
I'd be interested in digging into SharePoint further to see how applicable Microsoft's use case scenarios are. They seem to fit right into the needs gap for what I have been piecing numerous technology platforms and packages together to solve in my own day to day studies in grad school. My company has been having great success at using SharePoint as a cloud file server so far, and Microsoft's demo situation isn't so far fetched to believe as such.
It would be neat to hear from people who may leverage SharePoint and/or Office 365 in the education sector currently. How well does it work? How customizable is it? Do staff/professors like it better than students or vice versa? What are the pain points you are seeing with it? How does it stack up against Google Apps? This is the kind of real world insight I'm intrigued to hear about.
One such example of in-the-field usage that I could find was in the form of a presentation about how Arts University College Bournemouth (UK) made a switch from BlackBoard to SharePoint for its LMS needs. The post is live on one of Microsoft's MSDN Education blogs, run by Ray Fleming. There's even a dedicated commercial product called SharePointLMS which seems to be one of the premier packaged LMS solutions that bring SharePoint into the classroom. This is a paid solution of course, not to be confused with Microsoft's completely free vanilla SharePoint Online that is part of the Office 365 for Edu A2 suite.
If Office 365 and SharePoint are truly as functional in the classroom as Microsoft makes them out to be in this video, then school districts across the USA are leaving valuable free tools on the table by not signing up. It's good to see that Google isn't the only one doling out complimentary licenses for education.
You can watch the whole video I'm referencing in its entirety below: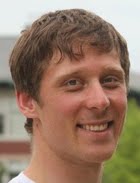 Derrick Wlodarz is an IT Specialist who owns Park Ridge, IL (USA) based technology consulting & service company FireLogic, with over eight+ years of IT experience in the private and public sectors. He holds numerous technical credentials from Microsoft, Google, and CompTIA and specializes in consulting customers on growing hot technologies such as Office 365, Google Apps, cloud-hosted VoIP, among others. Derrick is an active member of CompTIA's Subject Matter Expert Technical Advisory Council that shapes the future of CompTIA exams across the world. You can reach him at derrick at wlodarz dot net.