Jelly Bean surpasses 60 percent Android distribution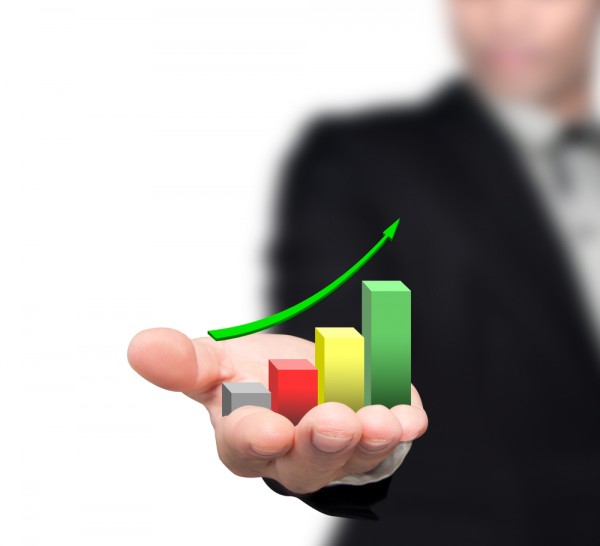 It is that time of the month again when we take a look at the latest Android distribution data. Google has released a new chart, based on the number of devices accessing the Play store in the seven days ending February 4, placing Jelly Bean as the most popular sweet with over 60 percent share in the green droid realm.
In early-February, the most popular Jelly Bean iteration is once again Android 4.1, thanks to a strong 35.5 percent distribution. It is also the most popular version of the mobile operating system, a title that it's relished since July 2013 when it finally topped the outdated Gingerbread. In the Jelly Bean branch, Android 4.1 is followed, in this order, by Android 4.2 and Android 4.3, with 16.3 percent and 8.9 percent distribution, respectively.
Android 4.4 continues to show signs of growth, topping 1.8 percent in early-February, up from 1.4 percent a month before. Its rise is slow at this stage and sustained by only a small number of devices, like the Google Nexus lineup, Motorola Moto X and Moto G and HTC One. As more vendors come aboard, especially Samsung with new releases and more software updates, we will see an uptake in distribution.
Due to its age (it launched in late-June 2012), Android 4.1 has started to drop in distribution (it had 35.9 percent in early-January, and more in the months before). Meanwhile, its newer siblings are gaining ground (in early-January, Android 4.2 had 15.4 percent while Android 4.3 claimed 7.8 percent). Its downfall is to be expected.
This is happening because Android vendors are moving their popular devices in the wild, released within the last year or two, to more recent iterations through software updates, while new smartphones and tablets are launched with newer versions of the mobile OS, like Android 4.2 or Android 4.3 (even Android 4.4 in some cases).
Ice Cream Sandwich is expected to continue its drop in distribution, as it is also no longer the de-facto Android version for software updates or new product launches. In early-February it reached a 16.1 percent share, slightly lower than the 16.9 percent from the month before.
Against all odds, Honeycomb still clings on to the charts with a mere 0.1 percent distribution. This level is the minimum required by Google for an Android version to show up in its monthly chart. So, if you do not see a specific iteration there it is because it has failed to reach the said imposed mark.
Gingerbread still has a strong presence, thanks to a 20 percent distribution. Its share has been constantly dropping for more than a year now (it was at 24.1 percent a month before), and will continue to do so as popular Android devices are no longer upgraded or released with it. Even though its share is slipping, Gingerbread remains a version of the mobile OS worth taking into account, as BlackBerry has proved by revealing that an upcoming BBM app update will support it (on Android, the service was initially meant to be offered only on devices running Ice Cream Sandwich and newer).
The last of the bunch is Froyo which retains a 1.3 percent distribution, as in early-January. Its share will slide, though, in the foreseeable future, as it did from early-December (1.6 percent) to early-2014.
As I have pointed out before, these numbers do not reflect the actual usage share of Android devices. Google rules out handsets running versions older than Froyo, as the Play Store app only works on Froyo and newer iterations.
That being said, these charts are actually meant for developers, who can use the data to decide which Android versions to support, among other purposes. For this scope, what Google reveals monthly is more accurate, as the search giant only takes into account the devices that actually access the Play store (and are, therefore, relevant to developers) and can run most apps.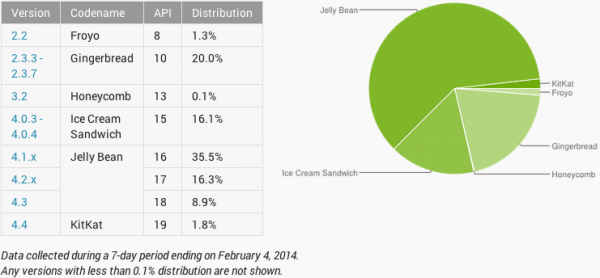 Photo Credit:  suphakit73/Shutterstock