Paint.NET 4 gets first beta release, adds commit button, choice of colour scheme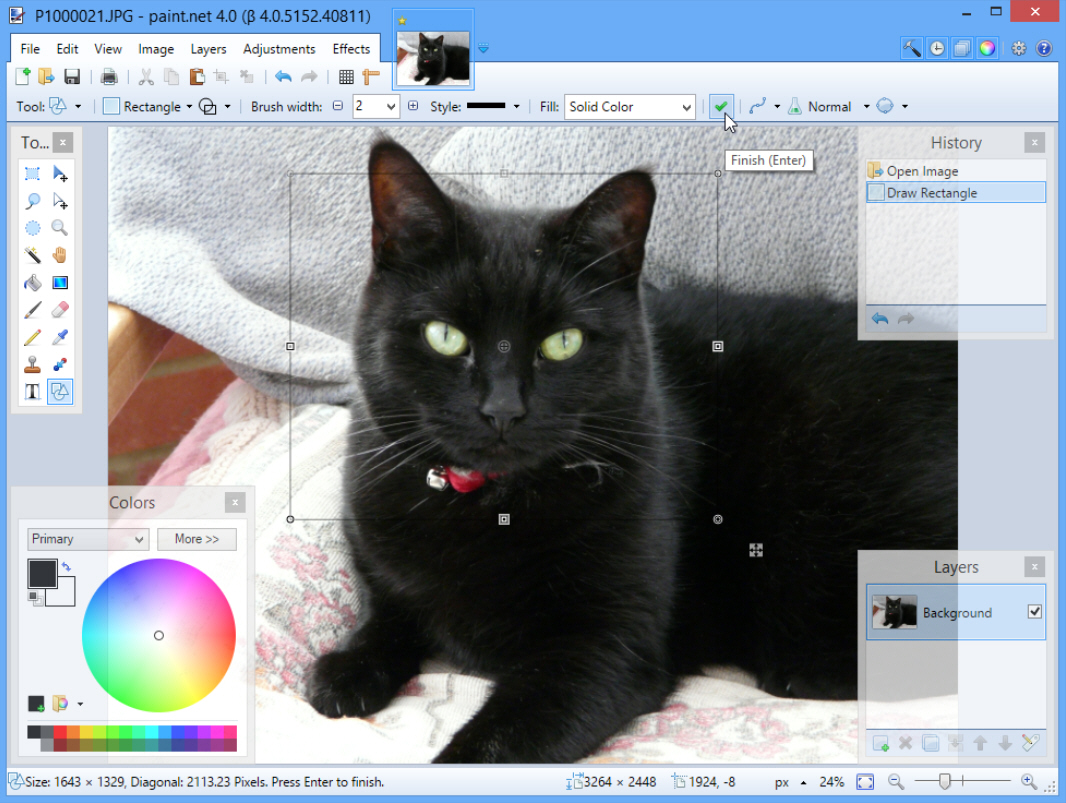 Less than two months after unveiling the first alpha, dotPDN LLC has released the first beta of Paint.NET 4.0. Version 4.0 comes with a rebuilt rendering engine, improvements to various tools and a tweaked user interface, and while the beta is primarily a bug-fix release it does introduce a couple of major tweaks.
The first change gives users a choice of color scheme -- light or blue -- via the program's Settings dialog. The default depends on the version of Windows currently being run -- light in Windows 8, blue in Windows 7.
Another significant improvement is the addition of a commit button -- shown as a green check mark -- to the toolbar. This works with most non-brush tools, including move, gradient and magic wand, and is designed to simplify the process of completing one task -- such as drawing a shape -- and then moving on to another one.
Other improvements include scaling the icons found in the top-right of the Paint.NET window correctly for high-DPI displays. The dangling Tool: tooltip found on the Tool selection button has been removed, while users can now cancel shapes by pressing the [Delete] key.
The update also includes a large number of fixes for crashes and performance-related issues, which are outlined in detail at the paint.net blog.
Version 4.0 will represent a major departure from version 3.5.11 on its final release -- a completely rebuilt rendering engine is both asynchronous and multi-threaded for improved performance, although users will need a PC with dual-core processor to run it.
The user interface has also been redesigned, with tools moved from the menu bar to a new top-right hand panel on-screen. Version 4.0 also comes radically revamped, improved and new tools across the board, from more visible selection outlines to a new all-encompassing Shapes tool containing 29 shapes previously split across various other tools.
The usual warnings about using pre-release software apply: don't rely on the program for day-to-day use and work on a duplicate copy of images.
Paint.NET 4.0.0 Beta build 5152 is available now as a a freeware download now for dual-core (or better) PCs running Windows 7 or later. The .NET Framework 4.5 is also required, but will be downloaded automatically if not present.  Also available is Paint.NET 3.5.11 for Windows XP or later.