SlideDog lets you create a multimedia presentation and share it online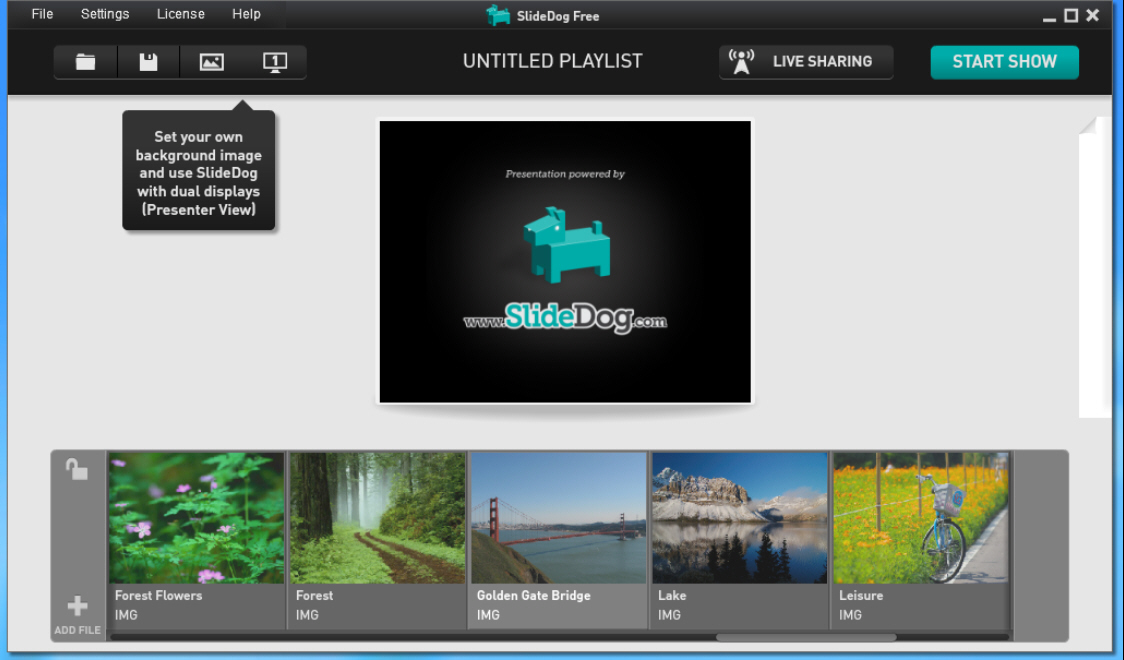 There's a lot of presentation software around, but the free SlideDog attracted our attention immediately with its claims of wide file format support. The program doesn't just sequence images, the website boasts: you can also use videos, PowerPoint files, web pages, PDFs, Prezi presentations, and more.
While this sounds great, all isn't quite as it seems. On installation, SlideDog points out that it doesn't handle these file types itself, and instead depends on you having suitable viewers available (VLC Media Player for movies, PowerPoint or the PowerPoint viewer for PPT/ PPTX files, and so on).
We continued anyway, and found the process of creating presentations was simple enough. Click Add File, then select "From Disk" to add a local file, "From Web" to add a web page, or "YouTube" to include a YouTube video (you can add a URL directly, or use the built-in YouTube search tool to find what you need).
More files can be added and organized in a timeline, or saved for reloading later. Double-clicking launches the presentation, and you can navigate with the cursor keys, or by stepping directly to a slide from the timeline. When you're done, pressing Esc ends the show.
This works well enough locally, but what's more interesting is SlideDog's ability to broadcast your presentation online, and interact with your audience. A Live Sharing option presents you with a link which you can pass to a maximum of 100 people. Click this and they'll view your files as you present them (currently only PowerPoint files, PDFs and images are supported by Live Sharing).
To understand how all this is being received, you can ask if your audience is following, or set up simple polls. A basic text chat tool allows viewers to make comments or ask you questions, and a "Get Feedback" option asks them for their views on the presentation, and lets them know what you thought.
The free version limits this "live sharing" functionality to blocks of 15 minutes (it cuts off after that time, but you can start again with a new link). It's still in beta, too, and we found odd problems with features like text chat.
Uploading to the Pro build ($9.99/ month, $99/ year) removes the time restriction, though, as well as adding other benefits: slideshow-style automatic advance of slides, dual-display support, and more.
SlideDog's presentations are very simple, then, but its ability to sequence a combination of files and web pages could be useful, and the "Live Sharing" feature is especially promising. The program still needs work, but it's definitely one to watch.