The Flappy Bird files: is the truth out there?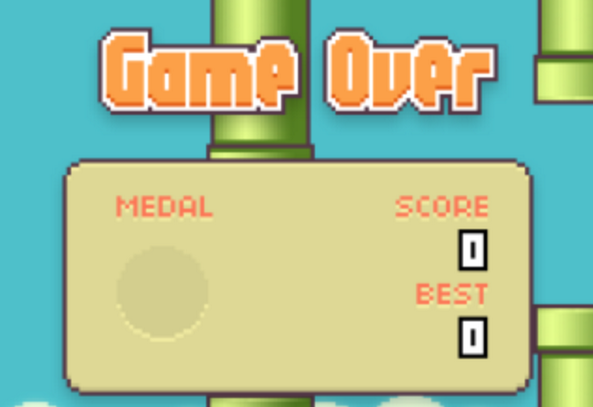 Death threats, inflated eBay auctions, clever marketing, lawsuits, app cloning, IP cloaking and bots -- the departure of Flappy Bird from app stores at the weekend has sparked an array of rumours, accusations and conspiracies.
A notoriously tricky and addictive game, Flappy Bird had been downloaded more than 50 million times since May 2013, and was the number one free game in the Apple App Store and Google Play Store charts.
I only downloaded Flappy Bird last Friday, and my highest score is still a pitiful 3, but it has already replaced Candy Crush Saga as the game I wish I'd never started playing. Annoying and compelling -- how an app should be.
But since its Vietnam-based creator Dong Nguyen said at the weekend that he was clipping the wings of his feathery creation, there has been a scramble to discover the 'real truth' behind Flappy Bird's demise.
Going by Nguyen's Twitter updates, Flappy Bird was taken down simply because he couldn't take it anymore and all the attention he was receiving was making him sad. Virtiol aimed at Nguyen before and following the weekend's events would certainly explain his decision to disappear from the limelight. People are angry with him for removing the game and others hate the fact he made it in the first place. There have been petitions, suicide hoax stories and even death threats.
But with Flappy Bird said to be earning Nguyen an average of $50,000 a day from advertising, is there another reason?
At first it was speculated that legal wrangles had forced Nguyen's hand -- Flappy Bird was too similar to Nintendo's Super Mario games, and the gaming giant was threatening legal action, it was claimed. Other reports suggested Flappy Bird bore more than a passing resemblance to a 2011 game called Piou Piou after its creator Kek tweeted a pictorial comparison.
But Nguyen said on Twitter that his decision is "not anything related to legal issues" and both Nintendo and Kek have reportedly denied any legal action.
Others have questioned whether Nguyen cheated his way to success and was using bots and IP cloaking to boost his app store rankings. Carter Thomas at mobile blog Bluecloud has described the activity of Nguyen's apps as "weird" and queried whether he employed "shady" tactics to get to the top of the charts.
Since the weekend, mobile phones and tablets with Flappy Bird installed on them have appeared on eBay for inflated prices, with costs ranging up to $90,000. Sellers are billing it as an opportunity to get hold of a "collector's app".
So could it all be just a ruse? Some think Flappy Bird's removal was just a clever marketing ploy -- by announcing he was removing the game Nguyen was effectively adopting the strategy Disney has employed over the years, prompting people to get something in volume before it is phased out of the market. His Twitter followers have soared as he has to in notoriety.
One thing we do know -- all the mystery and intrigue has guaranteed Nguyen has a huge audience waiting in anticipation for his next game and Nguyen's most recent Tweet "And I still make games" suggests there may well be something on the horizon.