Customize Windows right-click menus with Easy Context Menu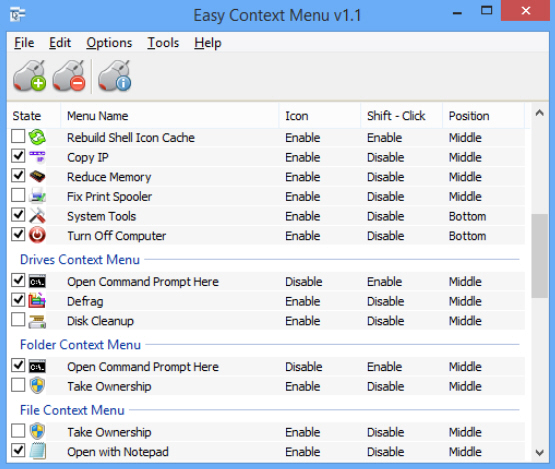 Browse just about any Windows tips site and you'll find tutorials on how to customize various Explorer right-click menus. Adding the ability to open the command prompt at a particular folder is a particular favorite; shutting down your system from the desktop right-click menu is another.
Applying this kind of tweak usually requires nothing more than a few quick Registry edits, but if you're in a hurry then you might prefer to use Easy Context Menu. It's a compact portable tool which makes it simple to apply 20+ common right-click tweaks, as well as adding a few small extras of its own.
The program opens with a list of the various options you can apply to the desktop context menu. These include "Delete Temporary Files", "Copy IP" (copies your current IP address to the clipboard), "Reduce Memory" (free up RAM), "Show or Hide File Extensions", and "Fix Print Spooler" (get your printer working again if a print job is "stuck").
Adding any of these options is as easy as clicking a checkbox. You can apply your changes in a click, and they should be visible immediately, no need to reboot: you'll be able to (for example) right-click the desktop and select "Delete Temporary Files", rather than manually launching some other tool to do this for you.
File and Folder menus have optional tools of their own. "Take Ownership" gives you the permissions necessary to access something; "Open with Notepad" provides an easy way to get a quick view of a file; "Block In Windows Firewall" and "Remove In Windows Firewall" helps to customize how applications work with the Windows firewall.
Easy Context Menu can also create "System Tools" and "Turn Off Computer" menus with further options. "System Tools" launches your choice of Windows applets (Registry Editor, Device Manager, Network Connections and so on), while "Turn Off Computer" includes your choice of shutdown options: Sleep, Hibernate, Restart, Shut Down, Shut Down Force (close down even if documents are unsaved), and more.
Most of this will make little difference to your PC life, of course. Yes, Easy Context Menu can help you to reach the shutdown menu in one click, but even Windows 8 only requires two.
The program does make it quick and easy to customize your system, though, and on balance it's a useful way to get a little more from your context menus.