Google Maps will help you get lucky this Valentine's Day -- lucky in love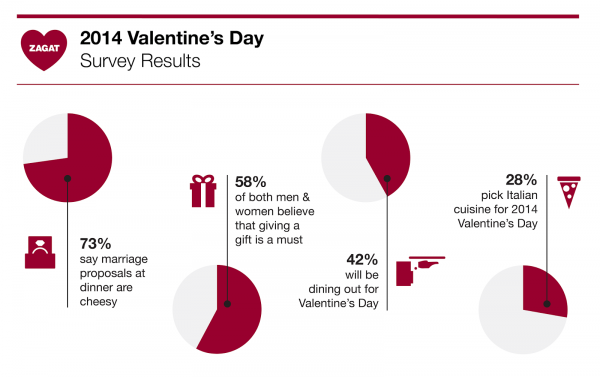 Ah, Valentine's Day...a day of love. Just mentioning the holiday conjures images of heart-shaped candy boxes, flowers and holding hands. Yes, it is a grand day for all that have a significant other. But, for single people, it can be quite depressing.
For those of us fortunate enough to have a significant other, the love and happiness is rivaled only by anxiety. You see, getting the right gift and making a reservation at the right restaurant can be quite daunting. You only have one opportunity to succeed each year on Valentine's Day. Failure may result in certain doom. Google however, has your back. The search giant has some great suggestions for having a romantic day, powered by Google Maps.
"Are you in a last minute scramble to plan a lovely evening for your Valentine? Hop to it! Reservations are going quick because according to Zagat's 2014 Valentine's survey, 42 percent of respondents will be hitting the town to celebrate the day of love. Whether you're searching for a restaurant to take your date to, scouting for the perfect gift in a store nearby or looking up directions to a movie with friends, Google Maps has the ingredients to cook up a successful night", says Google.
Yes, it should come as no surprise that eating out is a huge aspect of the celebration. Believe it or not though, Italian restaurants are the most popular for romantic foodies at 28 percent, of all locations. Of course, fans of Lady and the Tramp would not be surprised by this -- the famous spaghetti scene from that movie shows just how romantic the cuisine can be. If you've never seen the animated film, two dogs kiss after simultaneously chowing-down on opposite ends of the same noodle. Mamma mia!
Google suggests viewing 360-degree virtual tours of venues before making reservations. This can be done by searching for and clicking on the restaurant. However, not all restaurants have a virtual tour available. While the quality and taste of the food is the most important, ambiance is a close second -- especially on Valentine's Day.
Besides food, trinkets and gifts are a big part of the day. You can use Google Maps to search for retailers that sell things like candy and flowers. Depending on the seriousness and length of the relationship, for the men reading this, I would suggest maybe buying her jewelry too (money permitting). Ladies, now is a good time to buy him an Xbox One or PlayStation 4 -- Google Maps can find the nearest Best Buy for you too.
Lastly, Google suggests punctuality as being important and that is definitely true -- being late is rude. This is a place where Google Maps really shines -- directions. Even if you know how to get to your significant other's home (how can you not?), the search giant's mapping service can find the quickest route, while avoiding traffic. This will come in especially handy if you are going to a restaurant for the first time. If you are late to the eatery on Valentine's Day, you may kiss your reservation goodbye and end up at Taco Bell.
Will you leverage Google Maps in your quest for the perfect Valentine's Day? Tell me in the comments.
Editor's Note: (On a more serious note...) We wish you, and your loved one, a happy Valentine's Day!