Microsoft to reward all-Skype all-stars with prizes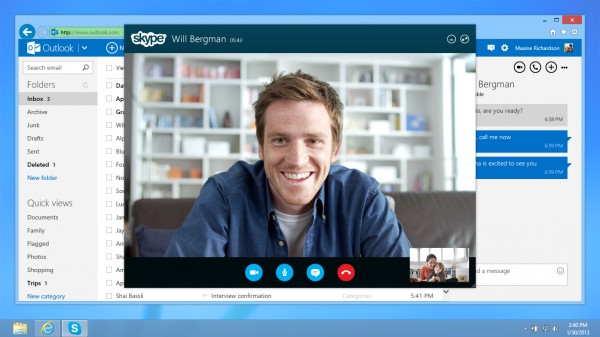 Years ago, when people thought of the future, videophones were prominent in their imaginations. Television shows such as Star Trek and The Jetsons made use of video communication. Today, we have many different choices when video chatting -- Apple's Facetime, Google's Hangouts and Microsoft's Skype are a few popular ones.
However, when it comes to multi-platform video communication, for many people, Skype is the best choice. No other popular video chatting service will work on iOS, Windows Phone, Android, OS X, Windows, etc. With that said, Microsoft is looking to give prizes to some people that utilize Skype often on multiple devices.
"Many of you already use Skype on desktop, mobile, and TV, and that's great. You're one step towards becoming what we call an all-Skype all-star -- someone who uses Skype all the time on all their devices", says Leanne Johnson, Skype.
Johnson further says, "you could be the next all-Skype all-star. Just send us pics of you using Skype on your devices of choice, and you could win a whole suite of Skype-enabled goodies. Be sure to include pictures of yourself using all your devices, from your tablet, to your smart TV, to your mobile phone".
While five first place winners will win a Surface 2 64GB, the grand prize winner will get the following:
Skype-enabled Smart TV
Windows Laptop
Nokia Lumia Windows Phone
Surface 2 64GB Tablet
Sadly, it seems winners are picked at random and not on the creativity of the submitted photos. However, if you do enter, you might as well have fun with it and submit something unique. After all, anything worth doing is worth doing well.
Do you use Skype? If so, on what devices? Tell me in the comments.