Google Chrome 33 released, tightens security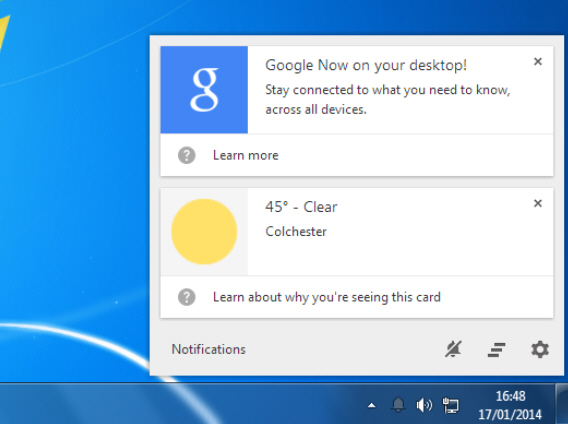 Google has updated its cross-platform browser with the release of Google Chrome 33 FINAL. The new release proves controversial as Google tightens control over the browser to the anger of some users.
In terms of new features, version 33 is rather disappointing -- despite debuting in the beta channel a few weeks ago, Google Now notifications have yet to make their way across to the stable channel. In fact, version 33 is little more than a bug-fix release, with 28 security fixes the only notable highlight.
Google Now notifications make it possible for users to receive timely reminders and other useful information such as travel updates, news and the latest weather reports. Notifications were already rolled out to iOS and Android builds, and are steadily making their way to Windows, Mac and Chromebook, although at the present time users need to be running Google Chrome Beta to access the feature (type chrome://flags/#enable-google-now into the Address Bar and switch it to Enabled). Look for a bell-shaped icon in the Taskbar's Notification area or menu bar to confirm Google Now is running.
A tightening of security is also on the cards, with Google planning to restrict all extensions to those hosted through the Chrome Web Store. At present, the feature has been rolled out only to the Windows platform, but should migrate to other platforms soon. It's designed to boost security by preventing malicious third-party extensions from compromising the browser.
One feature removed from version 33 is the "Enable Instant Extended API" option from the chrome:://flags menu, the loss of which which effectively prevents users from avoiding the recently redesigned New Tab page.
The revamped page, which has provoked much anger among frustrated users, sees Google's search box moved front and center, while a list of recently visited websites is reduced to a small section of the screen. There is also no facility for users to place shortcuts to favorite apps directly on the New Tab page -- while a separate Apps page is possible (use chrome://apps/ instead), it means users can no longer access apps and websites easily from the same page.
The redesign also sees users no longer able to access recently closed tabs via the bottom of the New Tab page; instead, they're directed to the Recent Tabs sub-menu, which is found on the main Chrome menu.
What is included in the update is 28 security fixes, five of which were rated "high". Six flaws were discovered as part of Google's ongoing bounty program, which saw the company pay out $13,500 in total to those who rooted them out.
Chrome 33′s release also coincides with Google officially "retiring" Chrome Frame, a plug-in that implemented the Chrome browsing engine in older versions of Internet Explorer.
Google Chrome 33 FINAL (and Google Chrome 33 Portable) is available now as a freeware download for Windows, Mac and Linux. Also available are Chrome for Android 32 and Google Chrome for iOS 33.