Crunch your JPG files down to size with JPGmini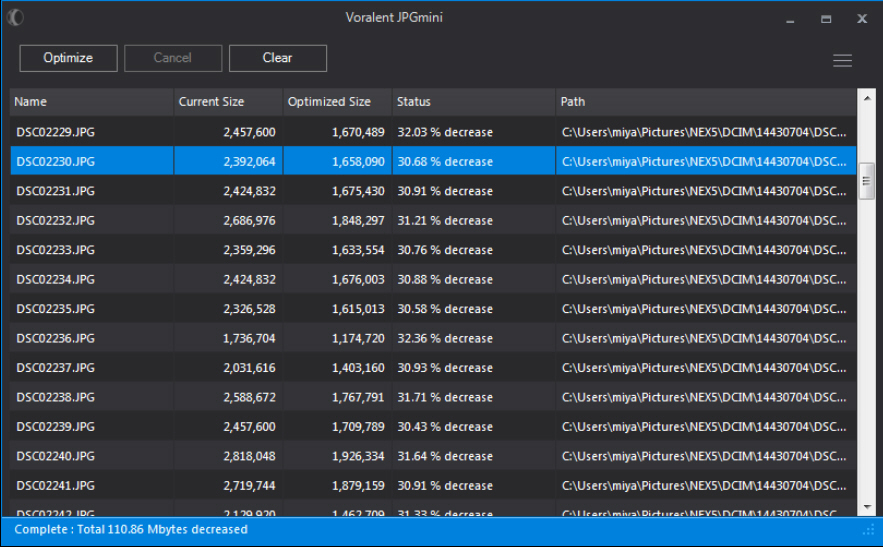 Last week we wrote about PNGmini, a useful tool which can cut PNG file sizes without any loss in image quality.
Developer Voralent has now released JPGmini 1.0, which applies similar lossless compression technology to crunch down your JPEGs. (No relation to the commercial JPEGmini, apparently. We predict Voralent will be hearing from them soon.)
The program looks and feels much like the earlier release. Drag and drop your images, click "Optimize", and wait as the files are processed: it couldn't be much easier.
Compression rates are good, too. Our test set of 100 real web graphics -- tiny images which you'd expect to be well optimized -- saw an impressive 17.57 percent drop in size, while the program shaved 8.85 percent off our 25 HD photos. That may not sound much, but the total file size fell from 76.5MB to 69.8MB, more than enough to be useful.
It seems that Voralent has been listening to complaints about its software overwriting its source images, too. JPGmini can optionally make a backup copy of these, just in case of problems. And the same function has just been added to the new PNGmini 2.0.
Both programs have also gained a "compression level" setting, which appears to offer greater savings at the expense of compression speed. We're not yet sure about this -- first impressions suggest the "maximum" level is just ridiculously slow with no real gain -- but tests are continuing.
We've some issues with JPGmini 1.0, then, but it delivers where it matters, being extremely easy to use and delivering good compression rates. Just keep in mind that it overwrites your source files, so check the "Backup" setting, or preferably work with copies of the original images.