Free content marketing for all from inPowered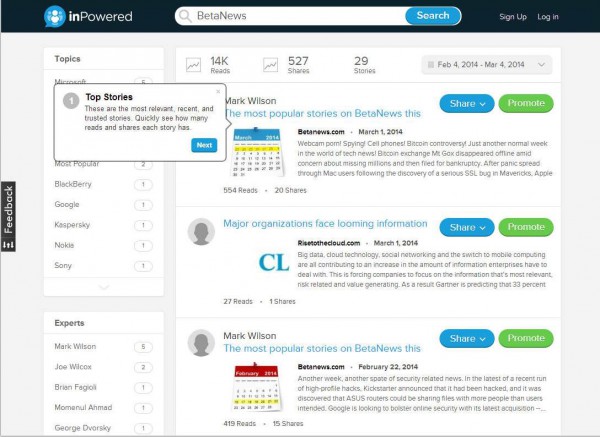 San Francisco-based content discovery specialist inPowered is making its discovery and amplification platform free for all organizations.
The software aims to help companies uncover trusted content, such as third-party reviews and articles, and use it to inform and engage their audience.
Until now only paid users have been able to access inPowered's platform but today it launches a free version that allows marketers, PR professionals and social media strategists to search for brands, products or topics and then discover and share the most trusted content to their fans and followers on Facebook, Twitter and LinkedIn. There's still a paid option too which lets marketers pay to promote content via targeted advertising.
"Too many 'content marketing' vendors ask companies to start paying up front, before the company knows what impact the service will have on business metrics. At inPowered, we're introducing a fundamentally different approach where everyone can utilize our free content discovery and amplification platform and see real results, then they can upgrade to paid amplification services, if they choose, for greater impact," says Peyman Nilforoush, Co-founder and CEO of inPowered. "Finding quality, credible information on the topics your customers are interested in should not be something you have to pay for -- that's something that everyone has a basic right to. Today, we're making that accessible to all".
As well as finding and sharing content, inPowered measures the impact in terms of reads and social shares. Once the most engaging content is identified companies have the option to pay for further promotion.
"We believe that everyone should be able to discover and share great content to help educate consumers, for free," says Nilforoush. "We also believe you should be able to measure the impact that the sharing of trusted content has when it comes to engagement and brand consideration. Then, if you want to dramatically increase the readership of your top articles beyond your social channels, you can utilize our paid amplification. This ensures that organizations only pay for clear, measurable business results".
You can find more information and start using inPowered for free on the company's website.