Windows Phone finally gets Facebook Messenger, 'app gap' slowly closing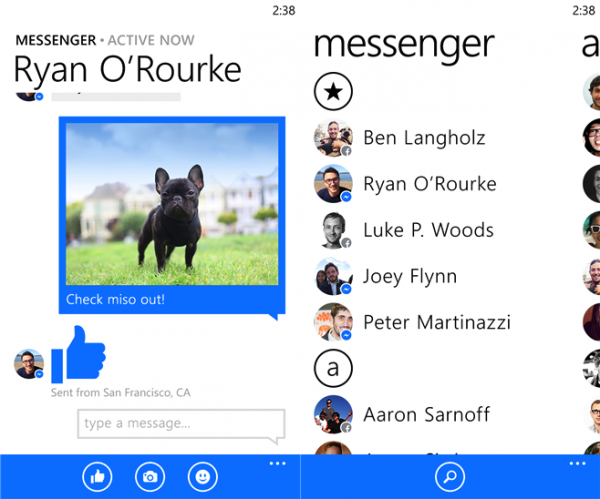 Windows Phone head Joe Belfiore spoke last year of the Windows Phone app gap, claiming that it would end before the start of 2014. Unfortunately for the platform, that has not turned out to be accurate as there are still lots of great titles that are either missing from Store or offered in a half-baked version on the tiled operating system. The good news is the app gap is actually closing, albeit slowly (and not anytime soon).
Microsoft revealed at MWC 2014 Facebook Messenger will launch on Windows Phone, and the app is finally available in Store today. This is one of the most important wins for the platform, as the service is hugely popular in many markets.
Some of you may rightfully point out that Facebook Messenger is already cleverly integrated in Microsoft's Facebook app, and can be easily pinned on the start screen. The difference between it and the official app is the former does not offer nearly as many features or actually looks and feels remotely like the Android and iOS counterparts. That is why the latter is important, as it gives Windows Phone a better chance of gaining more users from (larger) rival camps.
Straight off the bat, Facebook Messenger comes with a good feature set, with the only noteworthy functionality missing being the chat heads. That omission is to be understood seeing as the nature of Windows Phone is to keep the user experience consistent, and flying icons would have unsettled it.
Windows Phone users can share photos and their location with others, and chat with more than one Facebook friend in group chat. Folks can see when sent messages are read by recipients, and send and receive stickers.
The user list shows where Facebook friends are active -- in the mobile app or on the web -- which may come in handy sometimes. I have yet to test whether messages will be delivered solely to the app when the user is no longer active in the browser version.
As you might expect, chat history is offered and so is the option to disable notifications. The latter is a welcome feature, as Windows Phone does not offer quiet hours, which includes the ability to turn off notification sounds between certain hours.
As a first version, Facebook Messenger for Windows Phone is quite good. Hopefully the social network will not copy Instagram and other top-tier developers in launching apps for the tiled OS and not keeping them up to date compared to their Android and iOS counterparts.
Facebook Messenger is available to download from Windows Phone Store.