Nokia launches Windows Phone 8 Pocket Magnifier app for the visually impaired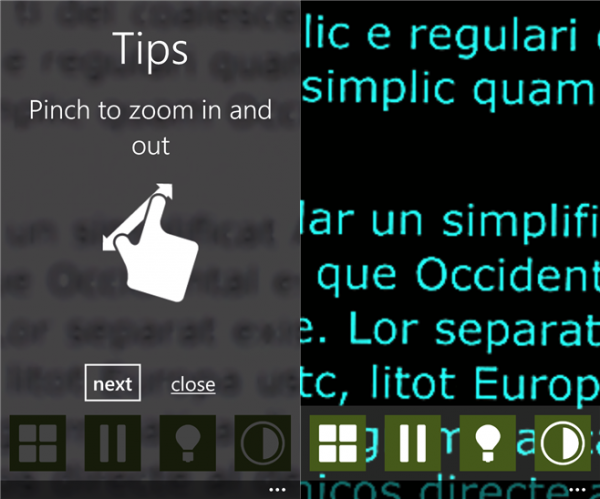 Nokia has launched a new Windows Phone 8 app aimed at the visually impaired. The offering, called Pocket Magnifier, was developed in collaboration with the UK Royal National Institute of Blind People, and is available exclusively for the Finnish maker's Lumia lineup.
As the name implies, Pocket Magnifier works like a digital magnifier glass that folks can point at various items for magnification. The app has a couple of features that are meant to augment this functionality, so let us take a look at them.
Things can be magnified on the screen through a simple gesture of pinch to zoom, but the same result can also be achieved by enabling the zoom slider. The maximum magnification level is 4x (four times larger than actual size).
Tapping on the Pocket Magnifier viewfinder will refocus the shown image, to make it easier to read. There is also a pause button available, which freezes the shot for easier reading, saving and applying of filters. The app includes nine filters, ranging from auto enhance to negative.
To make things easier to view in low light, there is a light bulb pictogram in the bottom menu which, when pressed, triggers the backside LED flash on the Lumia (if one exists). When the pictogram is crossed out the LED flash is active. I believe it should be the other way around to keep things consistent (a crossed out sign usually means a disabled feature) between apps.
As the app is new to the Windows Phone Store, there are only a couple of reviews posted so far. Its current rating is 4.5 stars (out of five). The reviews range from "Not so much helpful" to "Wow. This half blind dude loves this app. Can't count how many times I've needed this while shopping!".
Nokia Pocket Magnifier is available to download from Windows Phone Store. The app is listed as compatible with Microsoft's upcoming Windows Phone 8.1