Anvi Smart Defender sees a major revamp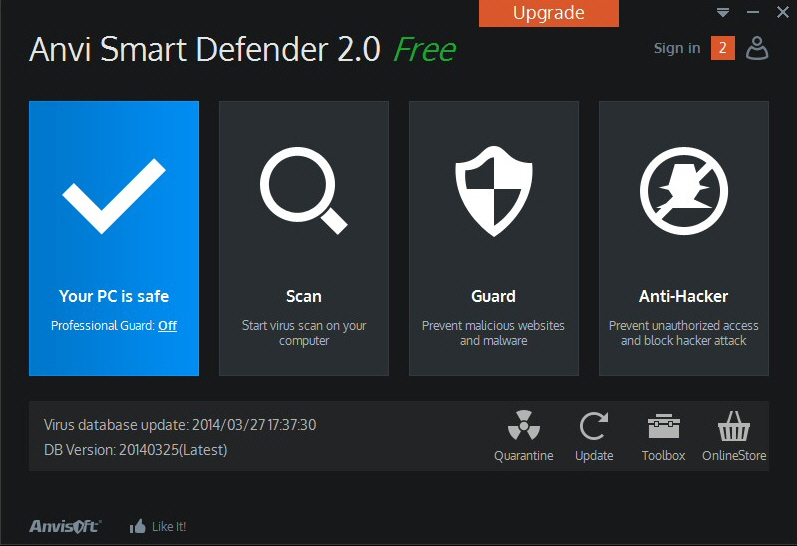 Anvisoft has announced the availability of Anvi Smart Defender 2.0, a major reworking of its lightweight security tool.
A completely redesigned interface sees the old cluttered screens replaced by a simpler, cleaner look. Key functions are accessed via large, flat buttons, surplus options are stripped away, and the end result does feel notably easier to use.
Thirteen new "guards" offer a degree of real-time protection. The free edition gets six -- "File", "Registry", "Startup Item", "Web", "Privacy" and "Download" -- but of course the commercial build has many more: "Adware", "eShopping", "USB", "Behavior", "Remote Access", "Remote Execute" and "Anti Exploit".
Anvi Smart Defender 2.0 doesn't stop at detection, though. A new Anti Hacker module scans your system, reports on vulnerabilities and poorly configured settings, and offers to fix them. This generally addresses very basic issues (check Windows Update is enabled, Autoplay is turned off), and there are a few checks which didn't seem to make sense ("Check if critical account is normal"), but it may help security beginners.
Other tweaks see more versatile scheduling, a new right-click "Scan by Anvi Smart Defender" option, and better monitoring of the program's own functions (making sure its database is properly updated, for instance). They're the kind of features which should have been included with version 1.0, but at least they've made it now.
We're still unimpressed by Anvi Smart Defender 2.0′s accuracy, and even with the new real-time features, the program is no substitute for a full antivirus application.
Anvi Smart Defender 2.0 is easy to use, though. The new interface looks good, its protection level is improving -- if slowly -- and we ran it alongside other security tools without difficulty. If you like the program and are already using it, this is a worthwhile upgrade.