jAlbum 12: adds embedded web browser, drops ad-supported free build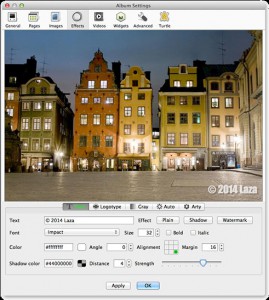 jAlbum AB has released jAlbum 12, a major update of its popular web album builder.
A major interface revamp sees the program now include an embedded web browser (Chromium), enabling you to preview changes as soon as you adjust your project settings.
A new Effects panel offers detailed control of album-wide effects, including watermarks, logos, gray-scale, auto-correct and filters.
A Share View mode makes it easier to share your album through social networks (Facebook, Twitter, Google+, more). A welcome privacy tweak sees all sharing options become opt-in, so projects will only be shared if you specifically choose to do so.
Major performance optimizations mean that projects which load images from network drives could open 5x faster than before. Resuming an interrupted build no longer forces the program to process all your project files again, and assorted interface tweaks deliver an all-round speed boost.
JAlbum 12 sees the program move to a new model, so it's goodbye to the old ad-supported freeware version, and hello to a fully-functional 30-day trial. This allows you to create ad-free albums which will work just as long as you need, but you won't be able to create or edit anything after the trial has expired.
If you purchased a jAlbum 11 Standard License before February 17th then you'll need a new one to install version 12. They're currently available at a 50 percent upgrade discount; that's $19.50 for a Standard License upgrade, $44.50 for a Pro Licence.
If you purchased a jAlbum 12 Standard License after February 17th, though, or you have a Premium/ Power account (click About jAlbum to find out), you're already covered: go download the new build immediately.