LightShot: capture, edit and share your screengrabs online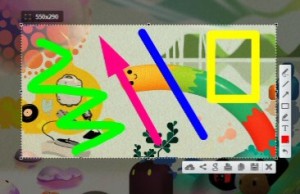 LightShot is a simple free tool which makes it very easy to take, edit and share your screengrabs online.
The program doesn't force you to learn new hotkeys, for instance. To launch it you'll just press PrtSc, as usual.
You don't have to select a capture type, either. Most of the time you'll just draw a freehand rectangle around the area you'd like to capture, although LightShot does also provide an option to grab the full screen (double-click your rectangle, or right-click and select "Fullscreen").
Once you've defined the capture area, basic drawing tools allow you to annotate this with lines, arrows, rectangles, highlights and text. It's all a little limited; there's no zoom function, and these are bitmap edits, not vectors, so you can't select and manipulate them later. Still, this works well for simple tasks.
Once the editing is done, you can save an image, copy it to the clipboard, or print it with a click or two.
LightShot's real advantage comes in its web options. There are tools to look for similar images online, share your grab via social networks (Twitter, Facebook, Pinterest, VK), or upload them for hosting on prntscr.com (you'll immediately get a link to share them with others, no account required).
There's some room for improvement, particularly in grabbing the windows of particular applications. Automatically highlighting the active window when you pressed Alt+PrtSc would be a good place to start.
If you just need a quick way to share an image online, though, LightShot should appeal. Give it a try.