Freeplane: a versatile brainstorming tool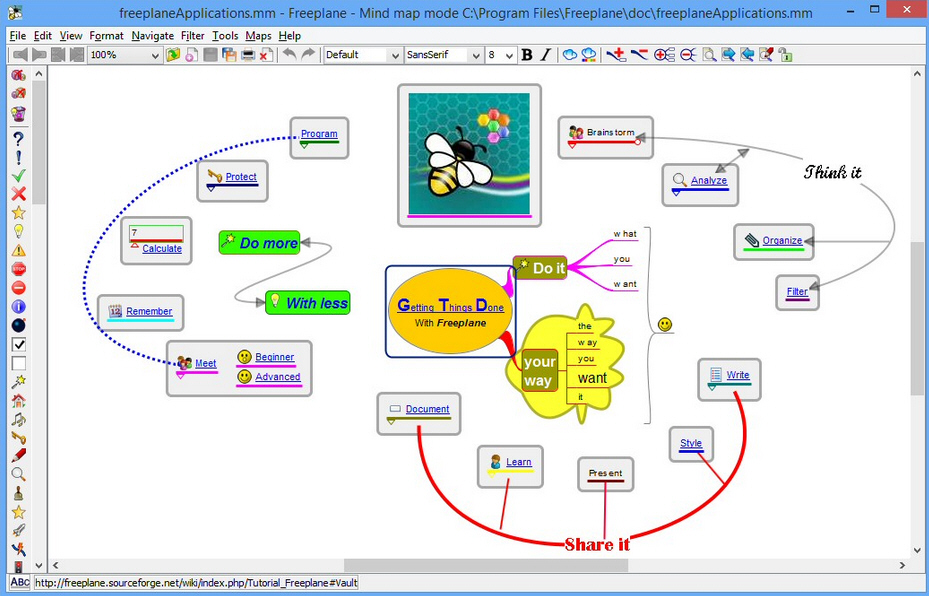 Whether you need to understand a problem, complete a task, or just generally get organized, mind mapping can probably help. Not least because it's so easy.
Start with the central issue; note down any related ideas, and begin to arrange and order them. You'll quickly come up with a structure which helps you better understand the issue.
You can do all this on paper, or whiteboard, of course, but turning to a computer, and the open source Freeplane, gives you much more scope.
The program -- a redesigned and extended version of FreeMind -- can be used to build regular, static mind maps. Although a little baffling at first, the core steps are simple. Start with a blank map; press Ins to add a node; customize it with an image, text, or icon; repeat the process to add other nodes, then link and organize them as you like.
Freeplane goes further, though. This starts with smart tools to help you build better maps. So for instance conditional styling allows the program to automatically give nodes your preferred look and feel according to their hierarchical level in the map, as well as their content.
That content can be very active. You can hide information within a node, present it on demand or automatically, organize it in folding branches, and use hyperlinks everywhere to help users navigate.
Built-in calendar and reminder tools help you manage anything from simple to-do lists to entire projects.
There's DES encryption of individual nodes or the entire map. The program can be extended with scripts and some interesting addons. And once you've finished, the map may be shared as an image, an HTML page, via Flash and more.
Perhaps the best indication of Freeplane's versatility is that its help file and tutorials are also Freeplane documents.
Making all this happen isn't always easy: Freeplane's interface is occasionally quirky, and there's a lot to learn. The program has many interesting features, though, and if you need something more than the usual static mind map diagrams then we'd give it a try.