Doctor.com prescribes Chromebooks as cure for insecurity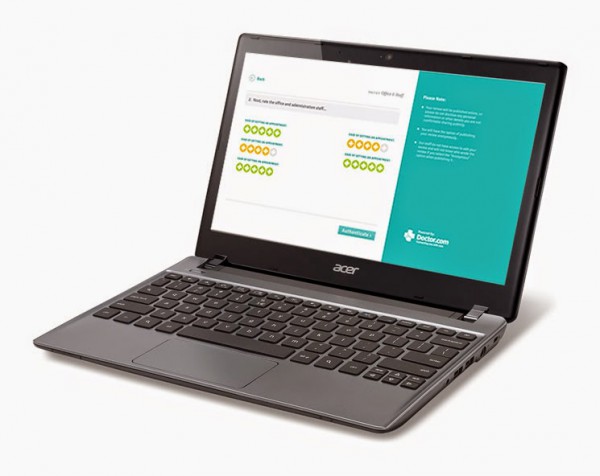 Chromebooks are very capable computers that many dismiss as a glorified web browser. However, those detractors should think outside the box a bit. For many people, the low-cost Chromebook can meet all of their needs. If all you need is a hammer, it is silly to argue that the hammer isn't also a screwdriver. If all you need is to drive nails, the hammer is fine.
One company, Doctor.com, has found that Chromebooks are meeting a need in a certain usage case. In other words, it is the right tool for the job. Even though a Macbook or Windows laptop may offer more features, the extra cost is wasted if the features are not needed.
"This January, we began deploying an application to efficiently collect credible patient reviews of their doctors, which we publish at Doctor.com and across a growing network of top healthcare websites such as the recently launched YourDoctor.com, a joint venture with Healthline, one of the web's most popular destinations for healthcare information and tools", says Andrei Zimiles, Co-founder and CEO, Doctor.com.
Zimiles further explains, "Chromebooks are allowing us to scale this program quickly and efficiently. We send every doctor who opts in an Acer Chromebook, which typically sits at the receptionist counter. At checkout, patients are encouraged to spend a few minutes entering anonymous feedback about their doctor as they wait for their paperwork to go through. This feedback is immediately sent to our team, and we vet and publish reviews on the Doctor.com network according to strict guidelines. This combination of credible reviews from patients and a wide network of important healthcare sites is unique in the marketplace and a win-win for both our doctor and patient users".
As you can see, the need is a simple web interface for collecting patient feedback. To deploy a Windows machine would be much more costly, involving security software, maintenance and fear of malware. When dealing with patient information, even something as simple as a review, securing the data is of the utmost importance. Don't forget, with an anonymous review, a patient can still potentially enter sensitive information in an open text box.
Doctor.com specifically mentions security as a reason for going with Chromebooks and I agree. It is the perfect cure for insecurity, since the machines are (so far) impervious to malware. After all, for the most part, the user can't install software locally that would negatively impact the machine. Quite frankly, if your need is only a mini-kiosk with simple web interface, why wouldn't you use Chrome OS?
Did Doctor.com make the right choice? Tell me in the comments.
Photo Credit: PathDoc / Shutterstock