Microsoft OneNote for Mac adds new features, still lags behind Windows version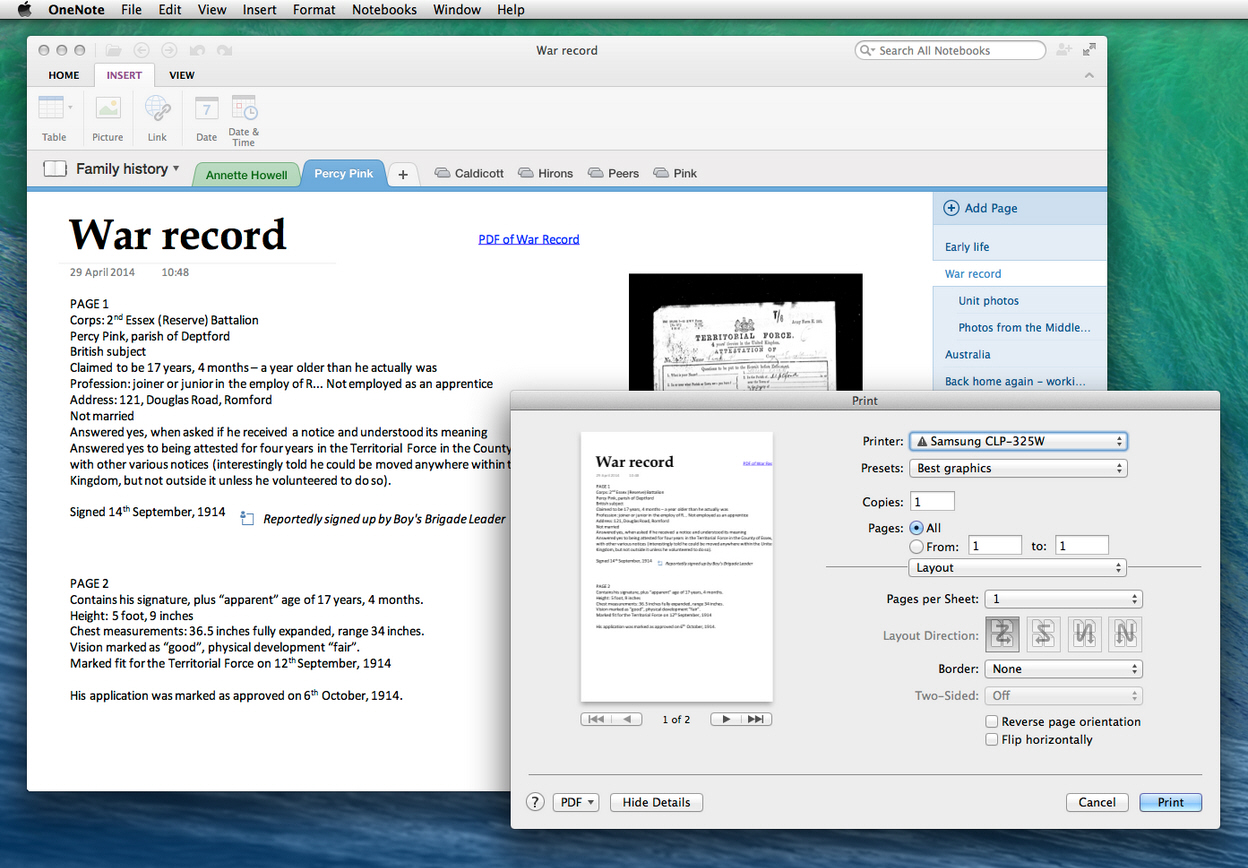 Microsoft has released OneNote for Mac 15.1, the first major update to its note-taking tool that was released back in March.
Version 15.1 comes with printing support, a new Format Painter tool and support for embedding web links. It's joined by OneNote for iPhone 2.2.1, which is now capable of creating notebooks and sections from scratch as well as bundling Office Lens functionality for document scanning.
OneNote for Mac launched with only a subset of the features found in the Windows version -- users could only insert text, tables, images and date or date/time stamps, for example.
Version 15.1 adds a new option to the sparsely populated Insert tab -- Link. Sadly, this can currently only be used to insert hyperlinks. The same option in the Windows version allows users to also insert links to locally stored files and other notebooks.
OneNote for Mac 15.1 also adds support for both printing notes and saving them as PDF files -- both options are available from the new Print dialog. This option seems to work best with notes formatted for A4 portrait -- in our tests, we found large chunks of free-form notes were chopped off with no option for setting orientation to landscape for example.
Version 15.1 also supports copying and pasting formatted content from other applications -- including of course, Microsoft Office for Mac -- into OneNote without losing the original formatting. OneNote for Mac also gains the use of a Format Painter for applying text formatting from one selection of text to another.
Users also gain the ability to drag and drop pictures directly from open web pages or from local folders into the currently open note. Multiple items are supported when selecting pictures in a folder. In addition to this, users can now rotate photos as well as restore resized images to their original size.
At the same time, Microsoft has also updated OneNote for iPhone to version 2.2.1. Despite the minor revision number, the update is significant in that it "untethers" the app from the desktop version, giving users the ability to not just edit and view existing notebooks, but create their own notebooks and sections directly from the iPhone too.
The app also gains the functionality of the Office Lens app, which allows users to take photos of whiteboard notes, receipts and other documents, which are then rendered more readable and even made editable where possible using OCR technology.
Microsoft OneNote for Mac 15.1 is available now as a free download for Macs running OS X 10.9 or later. Also available is Microsoft OneNote 15.0 for Windows 7 and 8 PCs, as well as a range of mobile apps, including Windows RT/8, iPhone, iPad and Android.