World's thinnest soundbar: Humax STA–1200 BSW packs a punch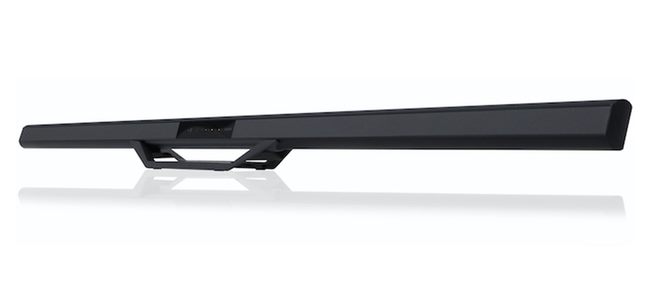 Whether you've been following Alan's guide to cutting the cord and have opted to ditch your traditional TV service in favour of something web-based, you're keen on sticking with your cable or satellite setup, or you're a gamer, sound is incredibly important to any setup. You could opt to go down the 5.1 (or even 7.1) surround sound route, but all too often this will involve trailing cables around the room in somewhat untidy fashion.
In recent years there has been something of a surge in interest in soundbars -- single units that pump out pseudo-surround -- and there is a huge range to choose from. Many are big and bulky, but the latest offering from Humax -- of set top box fame -- has something of a unique claim to fame: it is, allegedly, the slimmest soundbar in the world.
The first time I read the dimensions for the Humax STA-1200 BSW, it just didn't make sense. I didn't go quite as far as whipping out a tape measure or making up a dummy unit out of cardboard, but I did plenty of guestimating of size with much waving of arms whilst muttering (something along the lines of) "that can't be right!" Anorexia references are probably in bad taste, but I'm not one for worrying about such things and it's been typed now -- I'm not going back to delete it. Good taste or bad, this is a soundbar that is positively waif-like: 1200mm wide by 37mm tall by 20mm deep. Yep -- no typos there, this is a soundbar that has dimensions that are not dissimilar to a broom handle. There's also a sub to take into account, but this is hardly of mammoth proportions.
Dotted along the length of the soundbar are four speakers, pumping out 80W of power. The sub is a passive unit that provides 100W of bass backup. There's a frequency range of 40Hz-40KHz (or 40Hz-14KHz, depending on whether you trust the online brochure or the user manual), which is more than acceptable. Despite the unit's diminutive size, it really does throw out some decent sound. Controls are basic -- there are no equalizer settings to play with, for instance -- but the bass boost option and "surround" feature both yield impressive results. Audio is rich and clear, but it would be nice to be afforded a little more in the way of tweaking options. Switching through the small number of settings can be achieved using the mini remote control, or the pleasing touch controls on the bar itself.
Aesthetically, the Humax STA-1200 BSW is a good looking piece of kit and it wouldn't look out of place under any large screen TV or monitor. The styling is such that the soundbar can "blend in" with most setups, and you can choose between using a wall bracket or a desk-mounted stand. The wall bracket keeps things neat and tidy, but the stand gives more flexibility in terms of positioning.
The stand itself, whilst entirely functional, is a very basic and plasticky affair. Whilst not exactly flimsy one can't help but feel that it wouldn't take much to snap it in two -- if you have a couple of cats stalking the house, or perhaps kids, you may feel similarly concerned. Left to its own devices it's going to come to no harm, but it almost has the look and feel of a 3D printed model -- it is something of a low point.
In terms of inputs, things are a little limited. In fact there are only two wired options: optical or 3.5mm jack. While this will allow for connection to most devices, audiophiles may well rue the dearth of inputs. There is one other option however -- the Humax STA-1200 BSW also functions as a wireless speaker thanks to built-in Bluetooth support. Great for streaming music from a phone or tablet, using the soundbar as a Bluetooth speaker is very simple to get up and running... and it's just kinda cool, really. Pairing is a breeze and output via Bluetooth 3.0 is more than passable.
So… is this the best soundbar you could get for £200 (it's currently UK only)? Possibly not. Is it £200 well-spent? Almost certainly. This is a unique beast whose looks and stature belie the power and punch that lurks beneath the surface. For fans of minimalism looking for sleek style without having to make too much of a compromise, this is a great option. And hey, it is also referred to as the Blade, which is kinda sexy. Maybe we'll see a surge in sound blades this year...