Nintendo says no same-sex marriage for Mii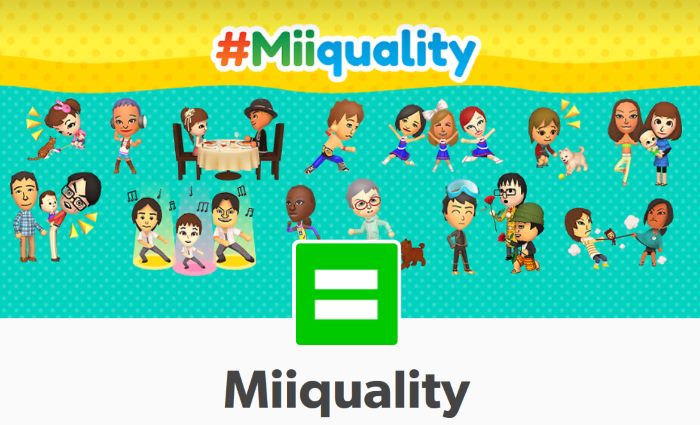 Real life sims are very easy to get wrong -- just look at The Sims, for instance -- and Nintendo's latest venture into this branch of gaming, Tomodachi Life, demonstrates this perfectly. Taking a collection of Miis (Nintendo's sickly sweet customizable avatars) and dumping them on an island, the game presents players with a "world full of possibilities". The game's website proclaims, "in Tomodachi Life, populate your very own island with the Mii characters of family, friends or anyone else you can think of!" As long as the Miis are not gay that is.
Yes, in the Disney-like world of Nintendo, same-sex relationships are not possible. You're free to do pretty much anything you like in the game, but when it comes to striking up a relationship and getting virtually married, it's boy-girl action only. Homosexuality simply does not exist in Nintendo's little bubble, and this is something that was noted by one gamer who then launched a campaign on Twitter to try to get the gaming giant to change its ways. Tye Marini 's Miiquality Twitter account was started to try to persuade Nintendo to rethink the game and allow for lesbian and gay relationships.
The Nintendo 3DS game has been available in Japan since December, and it has already proved popular. It was hoped that the Twitter campaign would force Nintendo to change its mind about LGBT relationships ahead of the game's European and North American launch in June. But the Mario factory has declined, saying that "the relationship options in the game represent a playful alternate world rather than a real-life simulation. We hope that all of our fans will see that 'Tomodachi Life' was intended to be a whimsical and quirky game, and that we were absolutely not trying to provide social commentary".
But for campaigners, this simply doesn't cut it. Claims of being "whimsical and quirky" and not intending to "make any form of social commentary" cannot be used as get out of jail free cards. Could the same excuses be given for introducing casual racism into a game? The reasons given are not good enough, and the Miiquality campaign, thankfully, continues. All may not be completely lost, as Nintendo has at least states to the campaign: "We will continue to listen and think about the feedback. We're using this as an opportunity to better understand our consumers and their expectations of us at all levels of the organization".
The issue does highlight the problems associated with simply transplanting a game from one country and introducing it to another unchanged. In Tomodachi Life's homeland of Japan, gay marriage is not legal -- in the UK and US (for the most part) it is. But again, these cultural differences are no excuse.