Shield your PC from keyloggers with Zemana AntiLogger Free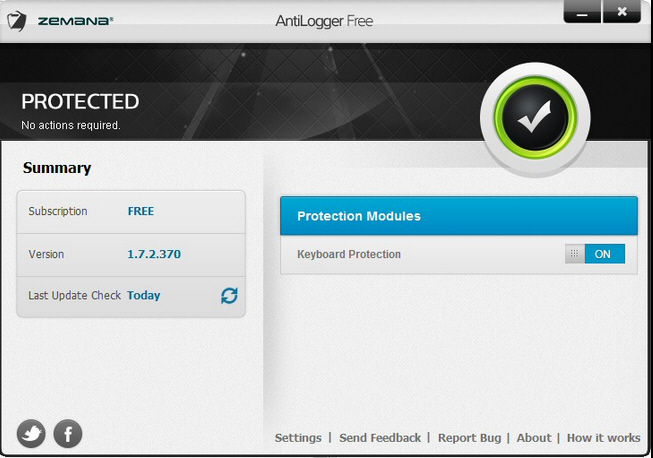 Keyloggers are a real malware menace, recording everything you type -- user names, passwords, credit card numbers and more -- for misuse later.
Your antivirus software will intercept most keyloggers before they can be installed, of course. Well, hopefully. But if you'd like another layer of protection, just in case, then you might be interested in Zemana AntiLogger Free.
The program installs easily, then runs in the background, encrypting keystrokes as you type and feeding them to the current application. This sounds a little alarming, but your system should work exactly as normal, and the only difference is that, if you're infected by a keylogger, it won't be able to capture anything useful.
Does it work? We tested it with a couple of commercial keyloggers. Without Zemana AntiLogger Free, they captured our user names, passwords and everything else we typed. Install the program, and they could only see control characters, backspaces and so on: anything visible -- numbers, letters, special characters -- was scrambled into something else entirely.
We were concerned that AntiLogger's trickery might be incompatible with some programs. There were no apparent issues with any of our regular applications, though, and if you do run into a problem then your protection can be turned off temporarily in a couple of clicks.
In another possible weakness, AntiLogger appeared to be a regular application, running in the system tray. Did this mean malware could disable it just by terminating the main AntiLogger process? But no, it's not that simple: we forcibly closed down the interface, but its protection was still intact.
All of this proved very lightweight, too, with the system requiring minimal CPU time and barely 14MB RAM.
If there's an issue here, it's that the program isn't portable. You most need this kind of tool when using other people's systems.
Still, Zemana AntiLogger Free does offer a useful extra layer of keylogger protection for your own system, and if you don't have the threat covered in other ways (virtual desktop, on-screen keyboard and so on) then it could be a worthwhile addition to your PC.