FreeText is an easier way to make ad-hoc notes, to-do lists and more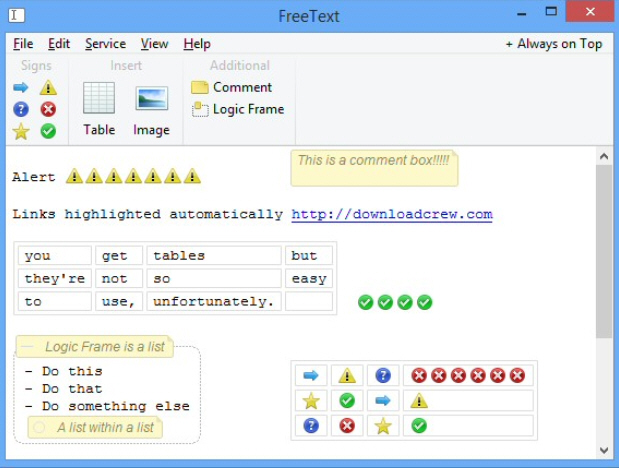 You're busy on the PC when you need to make a note, manage a task, maybe save a link. You could open Notepad, enter the details, save the file, and hope you can find it again later. But it might be easier to use FreeText to manage the whole process for you.
At its simplest, the program works like a more convenient version of Notepad. Links you type are recognized and become clickable; its window will by default remain on top of others; it minimizes to the system tray, and FreeText automatically saves your current file at regular intervals.
Don't be fooled by the Notepad-type interface, though -- FreeText isn't just about plain text. Its extra options are hidden by default, but clicking View > Palette displays a toolbar which tells you more.
You're able to insert simple icons alongside your notes, for instance: green ticks, red crosses, yellow stars, question marks, exclamation marks and more.
An Image tool allows you to insert JPEGs, PNGs, GIFs, BMPs, even ICO/ CUR files, and open them in common editors.
There's basic table support. It really is basic -- you can't define the default size (it's always 4×3), and inserting/ deleting rows and columns is awkward -- but it's enough for simple needs.
A Comment tool adds text notes in a frame with a yellow background, great when you need to highlight something.
And the set is complete with a logic frame, which is essentially a collapsible list box. You can give a list a title, then add various items, and collapse or hide these at a click. Logic frames can be embedded within other logic frames, too, so you're able to build up a complex series of nested folders to structure and organise your data.
The big issue here it's that your notes can't easily be shared with others. FreeText can't export them in any standard format, only its own proprietary FRT. Even copying and pasting text can be problematic if it's embedded in one of the program's structures (a table, a logic frame).
That aside, FreeText provides an extremely easy way to make ad-hoc rich text notes on your own system, and if that's all you need then it could be worth a try.