Self-encrypting solid state drive helps protect corporate data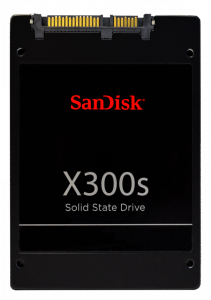 Mobile workforces and a changing threat landscape means that corporate data is more at risk than ever before.
A study last year by research specialist Forrester shows that 32 percent of all data breaches were due to the loss or theft of corporate laptops. In addition between June 2012 and June 2013, business travelers lost over 10,000 laptops, smartphones, tablets and other personal electronic devices in seven of the world's largest airports.
To help companies keep their information safe, storage specialist SanDisk is launching the company's first self-encrypting solid state drive. The X300s SSD uses an AES 256-bit FIPS 197 certified hardware crypto engine to enable full-disk encryption with minimal performance penalty. It's built to be compatible with TCG Opal 2.0 and Microsoft Encrypted Hard Drive technologies and is compliant with key security specifications including IEEE 1667. It also has a new admin dashboard to make audit and compliance management easier.
"Businesses of all sizes want computers that are reliable, secure, built to last and are easy to support remotely," says Kevin Conley, senior vice president and general manager, client storage solutions at SanDisk. "For the enterprises that deploy hundreds or even thousands of laptops, it's essential that their IT departments be able to centrally and securely manage these devices. The X300s, designed with SanDisk's world-class flash, helps corporate IT leaders not only deliver the heightened performance and lower TCO that flash is known for, but also addresses data protection and security needs, without business disruption".
The drive also comes with a coupon code for a free download of Wave EMBASSY Security Center to deliver local management. You also get a free 30-day trial of Wave Cloud 2014 which allows an administrator to remotely set up and manage several self-encrypting drives.
The SanDisk X300s SSD will be available in June via the company's Commercial Business Channel. It will come in two form factors, conventional 2.5-inch 7mm and M.2 2280 single-sided edge-connector format. Capacities range from 64GB up to 1TB. Up to 512GB will be supported on the M.2 2280 single-sided design form factor, enabling thinner computing designs.
You can visit the X300s's product page on the SanDisk website for more information. For a look at the benefits of self-encrypting drives see the infographic below.