Dropbox 2.8 offers smarter installer, drive space warnings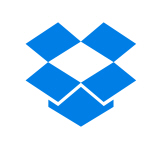 Cloud backup provider Dropbox has announced the final release of Dropbox 2.8, its latest major update for Windows, Linux and Mac.
The new release adds Windows and OS X auto sign-in support for easier installation. As long as you're logged into Dropbox already, the installer won't ask for your credentials again. (This doesn't work if you're using two-step verification, or a Dropbox for Business account that uses single sign-on.)
A more intelligent setup process sees version 2.8 offer to use selective sync if your Dropbox is more than 10GB, or syncing everything would fill most of your hard drive space. This only applies when first linking an account to a computer, as otherwise the program uses your previous settings.
There are also new icons in the system tray menu, and a couple of bug fixes, in particular an issue moving a Dropbox where long paths are involved. The new concern about your hard drive space continues elsewhere, with notifications appearing as you run out.
It's hard to get excited about 2.8, then, but Dropbox 2.9 Experimental is already looking much more interesting.
The key development is the introduction of streaming sync, where large files begin to be synced with your clients as they're being uploaded, cutting any initial delays.
A scrolling tray pop-up gives you convenient access to more than just the last three items. There's improved initial sync performance, and several new languages: Danish, Dutch, Swedish, Thai and Ukrainian.
Dropbox 2.8 FINAL and Dropbox 2.9 Experimental are available now as a free download for Windows, Linux and Mac.