Facebook listens to feedback and tightens up privacy settings -- a bit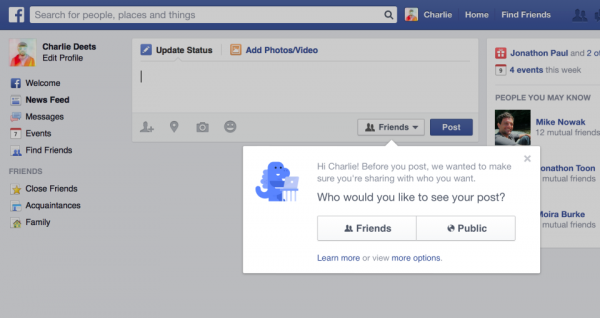 Privacy. It's something that we're all concerned about, particularly online. Facebook is one of many companies that comes in for scrutiny and criticism for the way it handles user privacy, and there have long been complaints about the fact that statuses and uploaded photos are made publicly accessible by default. Today that changes. After years of pestering, Facebook has listened to its user base and changed the default visibility setting to "Friends only". At least this is the case for brand new users.
Anyone signing up for a new Facebook account -- can there be many people left who do not yet have one? -- will be able to avoid accidentally sharing private photos with the world. "Going forward, when new people join Facebook, the default audience of their first post will be set to Friends. Previously, for most people, it was set to Public," says Facebook in a blog post. The first time a post is made, users will be asked whether it should be made public or limited to a smaller audience. If no selection is made, it will default to Friends.
This is good news for newcomers to Facebook, but the social network has something in store for existing users as well. In the coming week a Privacy Checkup tool will be rolled out across the network, aimed at helping people to ensure they are sharing content with "the right people". The checkup will guide Facebookers through reviewing the privacy settings of their profile as well as double checking the apps they have installed and, of course, checking the default sharing settings.
Changes are on the cards for mobile users, and Android and iOS users will find that "audience selectors" have been simplified. This is something that will be available to new and old users alike. Unfortunately, the choice between friends and public is as good as it gets for now. Finer tuning is not possible -- for default settings, at least -- but this is likely to be seen as a step in the right direction. "Everything about how privacy works on Facebook remains the same" states the network's announcement. Whether this is good or bad is really a matter of personal opinion.