Auslogics Disk Defrag Touch is a very different defragger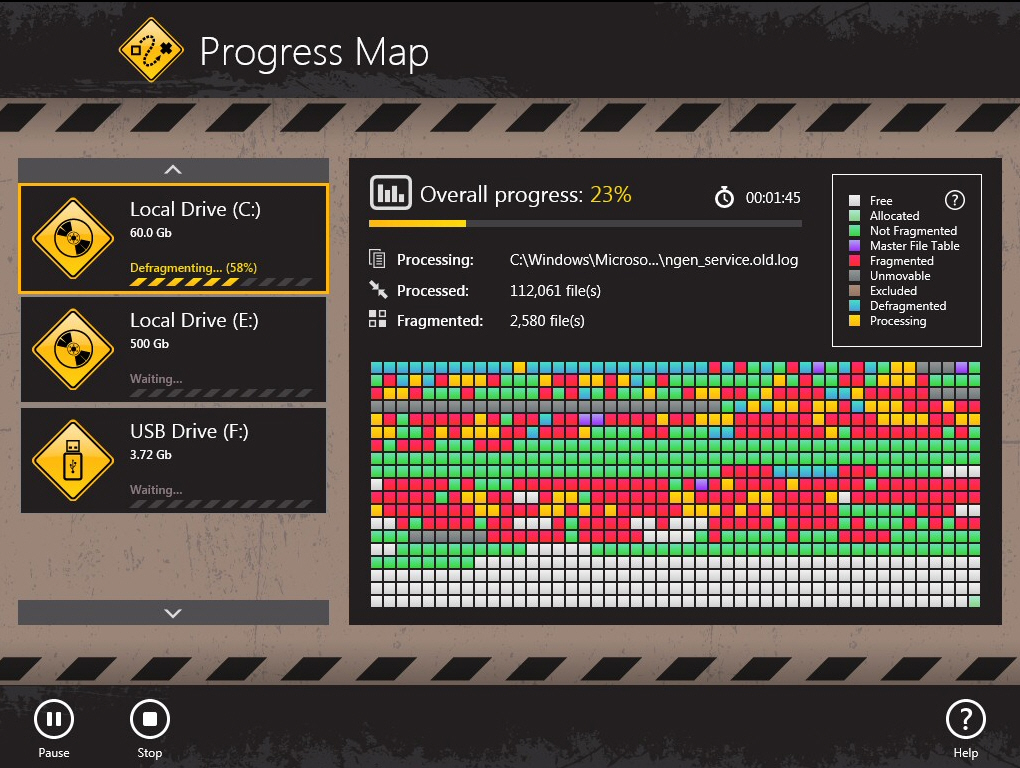 Australian developer Auslogics has released Auslogics Disk Defrag Touch, a very major touch-oriented revamp of its Auslogics Disk Defrag package.
The most immediately obvious change is the very Windows 8-like interface, and we don't just mean "it uses a few colorful tiles". The program runs full-screen, has the same bold design, a very similar layout for its controls and options: it actually feels like you're running a Windows 8 app (although it also runs on Windows 7).
All the main options are presented on the same start screen, too, so you have to swipe left or right to view them. Mouse users can alternatively spin the mouse wheel or drag the mouse left or right.
Get past the visuals and defragging works more or less as you'd expect. You choose a drive; analyze it, launch a quick or full defrag; and then watch as the usual drive map keeps you up-to-date with progress.
Performance is great, no surprise as the program is based on Auslogics' regular disk defragger. But if you still don't have time to run a full defrag, no problem: Auslogics Disk Defrag Touch also includes an "Optimize Programs" section which appears to defragment files relating to a particular application only.
There are some useful tweaks and settings. You can have the program delete temporary files before defragging, speeding up the process. An option to skip large file fragments also improves defrag speed without making much difference to your final system performance. Or you might tell the program to move system files to the beginning of the disk, which means defragging could take a lot longer, but you should see a faster system afterwards.
A simple scheduler then makes it easy to run all this automatically, every day, week or month, or when your PC is idle.
And, slightly bizarrely, there's a game-like "levels" scheme where you earn tokens for using the program, recording achievements, improving your status, unlocking secret features, and collecting tokens which apparently you'll be able to "redeem later". Will this turn defragging into a Candy Crush-like addiction? (Hint: no.)
While you can use all this with a mouse, the full-screen interface becomes a little annoying. Especially on Windows 8.1, where apps aren't quite like that any more (they have title bars, standard minimize and close buttons).
Auslogics Disk Defrag Touch is certainly well-designed, though, as close to the Windows 8 look as we've ever seen from a desktop application. It works well on a touch screen, and the program's capable defrag engine does a good job of optimizing your drive. If you're bored with ordinary defraggers then give it a try.