Facebook Messenger for Windows Phone gets new features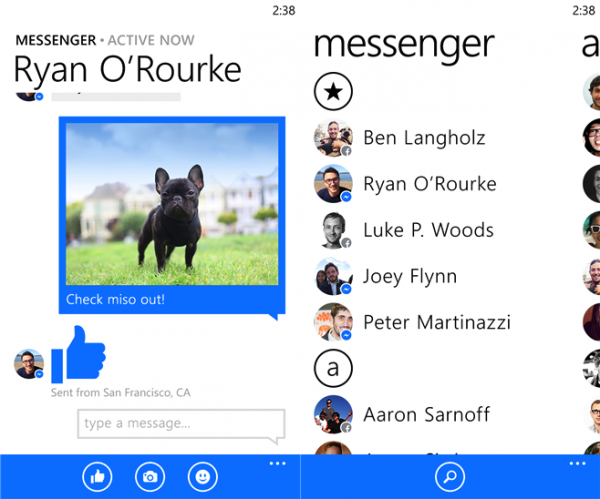 As a regular Facebook Messenger user, I prefer my Google Nexus 7, instead of my Nokia Lumia 920, to chat with other people. It is not due to the larger screen size, but because the Android app feels so much better than the Windows Phone counterpart. The former is fast, totes all the greatest features Facebook Messenger offers, and comes with chat heads, which are both cool and useful.
Thankfully, Facebook Messenger for Windows Phone is delivering a better experience with each update it receives. It may not happen as often as I would like, but the popular social network is slowly improving its offering, with the latest version adding some much-needed changes.
Microsoft, which has detailed the latest update, claims that Facebook Messenger for Windows Phone now offers better performance. And, I have to say it feels a tiny bit snappier, although this could just be the placebo effect talking. There are only a "few" impacted areas, however.
The app should now also make better use of data, thanks to image caching, which will help minimize cellular data consumption. Facebook says it is working on making its offering even more reliable and use even less data.
Taking a photo and sharing it only requires a single tap now in Facebook messenger, after triggering the camera user interface, which is now built into the app. Also, Facebook has added a "brand new photo gallery feature", which offers quick access to your pictures within the app.
Finally, Facebook Messenger for Windows Phone gets group support, allowing you to create and manage groups within the app, and enjoy group chats. As you might expect, groups can be pinned on the homescreen.
Facebook Messenger is available to download from Windows Phone Store.