Firefox 30 adds new Sidebar button, GStreamer 1.0 support for Linux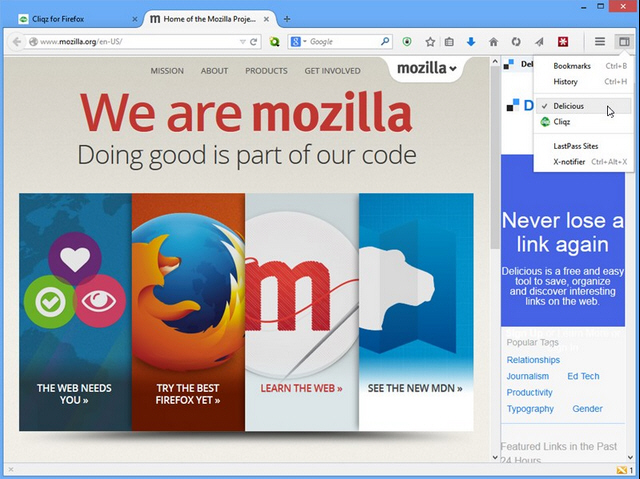 Mozilla has released Firefox 30.0 FINAL for desktop, with Firefox for Android 30.0 also imminent.
Despite the landmark version number, Firefox 30 is a relatively minor release -- particularly on the desktop version -- with little in the way of new features for end users.
Version 30's only notable new feature is the addition of a Sidebar button, which users must add manually to their main toolbar using the Tools > Customize option -- once added, clicking this allows users to quickly access the Bookmarks or History sidebars, plus any other sidebar content including social providers and sidebars added by third-party plugins such as LastPass.
Firefox 30 also unveils two new platform-specific features: the first is support for GStreamer 1.0, an open-source multimedia framework that means Linux users will be able to access H.264 video as well as MP3 and AAC audio files natively through the browser.
The second new feature sees Mac users now able to use the selected text as the basis for a search by pressing [Cmd]+[E].
Version 30 also ups the security ante by only allowing a specific set of whitelisted plugins to run automatically -- users will either be prompted to activate a plugin the first time a web site requires it, or can manually enable plugins themselves via the about:addons dialog (select Plugins) -- click the Ask to Activate dropdown next to a plugin and choose Always Activate.
Firefox 30 also includes a larger number of developer changes, including the blocking of call WebIDL constructors as functions on the web. Two specific fixes resolve an issue whereby autocomplete="off" was ignored when offering to save passwords via the password manager, plus another that meant TypedArrays didn't support new named properties.
The new release will also be accompanied by Firefox for Android 30.0. This adds Quickshare buttons to the Firefox context menu and uses the Home Feeds Add-On to add web content to home page panels. Six new locales -- Belarusian, Argentine Spanish, Mexican Spanish, Indonesian, Latvian and Malay have also been added. One platform-specific fix resolves an issue whereby after playing back MP4 video, video could not be played again.
Firefox 30.0 FINAL for Windows, Mac and Linux is available now as a free, open-source download. Firefox for Android 30.0 should be available shortly.