Avast's new Android app removes ransomware from infected phones and tablets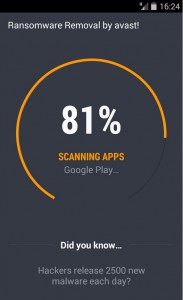 Of all the malware threats out there, ransomware is arguably the nastiest. It locks your computer, encrypts your files, and then demands payment to free your data. You can remove it easily enough, but doing so won't get you your files back. And unfortunately ransomware is beginning to make its way on to Android devices.
Avast has just released a Ransomware Removal app which will eliminate this type of threat from infected Android phones and tablets. It scans your device, tells you if you're infected and if you are it will remove the malware and (according to Avast) decrypt your hijacked files.
Obviously, ransomware locks your device, making it difficult to take action, but you can install the app remotely.
The installation process is as follows:
Go to http://play.google.com from your computer.
Login to the Google Play with the same user information you use to login to your phone.
Search for the Avast Ransomware Removal application.
Click on the "Install" button, and the app will be installed on your device in a minute.
After the app is installed, click the app name in the notification bar.
The app will start and provide you with further instructions.
Uninstall the app when finished so you can install it again in the future if necessary.
The app was created following the discovery of a new proof-of-concept ransomware threat called SimplLocker which is able to encrypt photos, videos, and documents stored on smartphones and tablets. You can watch a video of it in action below.
According to Ondrej Vlcek, Chief Operating Officer at Avast Software, "SimplLocker blocks access to files contained on mobile devices. Without our free ransomware-removal tool, infected users have to pay $21 to regain access to their personal files. SimplLocker is the first ransomware that actually encrypts these files, so we developed a free tool for people to restore them".