Stickies allows text notes to contain images, adds desktop stack option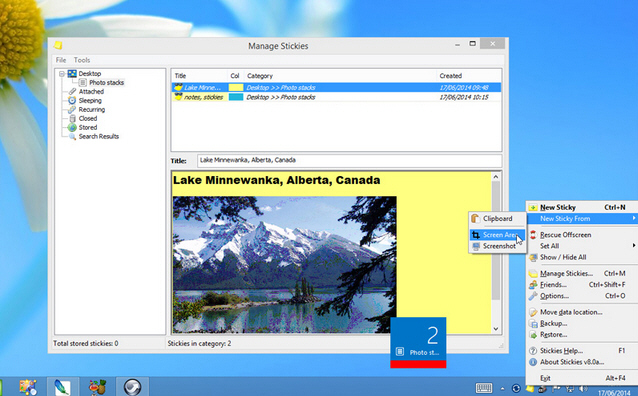 Looking for a digital solution to the raft of sticky notes plastered across your desk? ZHorn Software has just unveiled Stickies 8.0a, the first major update to its free desktop sticky tool for Windows since November 2012.
New features include support for inserting images in text stickies, the ability to stack desktop stickies together and periodic automatic backups.
Once installed, Stickies resides in the user's Taskbar Notification area, making it easy to add new stickies simply by double-clicking the taskbar icon. Stickies can easily be customized, and even attached to specific applications so they only appear when that program is running. Users can also share stickies between friends via network, SMTP or MAPI mail client.
Version 8 allows users to include images in existing text stickies -- the simplest way to do this is to copy and paste from another application. Note images must be smaller than the maximum permitted size for individual stickies -- which has been raised to 614,400 bytes -- for this to work.
Stacks, which keeps desktop stickies in groups, are set up and organized from the Manage Stickies dialog. Once created, a stack icon appears on-screen allowing users to quickly hide or show all the stack's stickies with a single click.
Support for friendly hyperlinks -- similar to those found in web pages -- has been added, while the app now performs periodic full backups automatically; these are taken every 24 hours by default, and can be configured via the Options > Advanced tab. Users also gain the ability to easily restore from previous backups.
A Properties dialog has now been added to all stickies in all categories, while users can now also create a sticky from a screen grab taken via the program's Screenshot and Screen Area options under the New Sticky From sub-menu.
Stickies' image-editing tools have been majorly improved, with users given the option of configuring the number of undo levels alongside new options for rotating, grayscale, invert, flip, mirror, border, blur, jitter, and flood fill. Image stickies can now be saved as standalone JPG files.
The app is now fully Unicode compliant, meaning it supports all languages throughout. Other changes include stickies being able to store many more attributes, such as position, source and read-only status.
Version 8 also uses a new data storage format: RTF is split into multiple files, with settings, options and friends spliced off into their own files. Users also gain the ability to specify where the data files are stored on their computer.
Many other minor tweaks and enhancements have also been implemented, while support for Palm and PPC devices has been dropped along with the Recover dialog. The update is rounded off with a selection of bug fixes -- all outlined in detail here.
Stickies 8.0a is available now as a freeware download for PCs running Windows XP SP1 or later. Hebrew and Polish language packs are also available as separate downloads. A portable build of the previous version is also available, and should be updated shortly.