Flipora updates its discovery engine and this time it's personal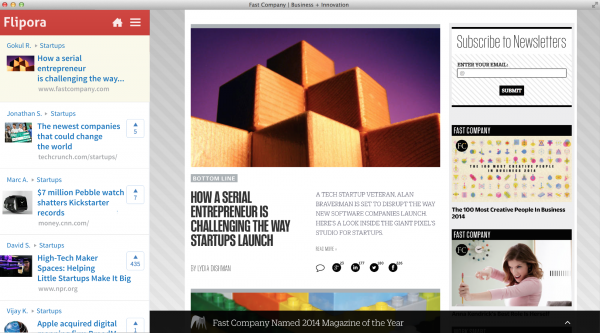 Relying on search engines or social networks to discover things you're interested in on the net can be a bit hit and miss. The things you see on your Facebook feed for example are influenced by your friends' interests as well as your own.
Flipora aims to change the process of following your interests online by using artificial intelligence to make recommendations related to the things you really want to see.
It analyzes your browsing and social media activity via a browser extension and learns the kind of things you're interested in. It will then recommend other articles and sites based on what it finds. Because it's constantly monitoring what you look at its recommendations evolve over time allowing it to make "mood aware" choices without you having to do anything.
Jonathan Siddharth, Flipora's co-founder says, "Facebook isn't targeted and nor is Twitter but 99 percent of people use these for web discovery. Flipora looks at all the web not just sites you share with your friends and so is able to make better recommendations based on your current interests".
Flipora 2.0 has a sleek new interface and works automatically without you having to specify what you're interested in. As soon as you login to the site with Facebook it will begin to analyze your timeline and suggest topics to follow.
Install the browser extension -- available for Chrome, Firefox and Internet Explorer -- and it will also look at your browsing history to improve its accuracy. For example, if you've been looking at sites related to the World Cup it will recommend other football content via a side panel or a slider in the corner of the page. If your interest wanes when the tournament is over Flipora will quickly adapt as you visit these sites less.
You also have the option to share your website discoveries with people who have the same interests rather than putting them on other social networks where they'll risk getting lost in the background noise.
Flipora 2.0 launches today and you can try it for yourself at flipora.com, the company hopes to have 40 million users by the end of 2014.