This is the Samsung Galaxy S5 you really want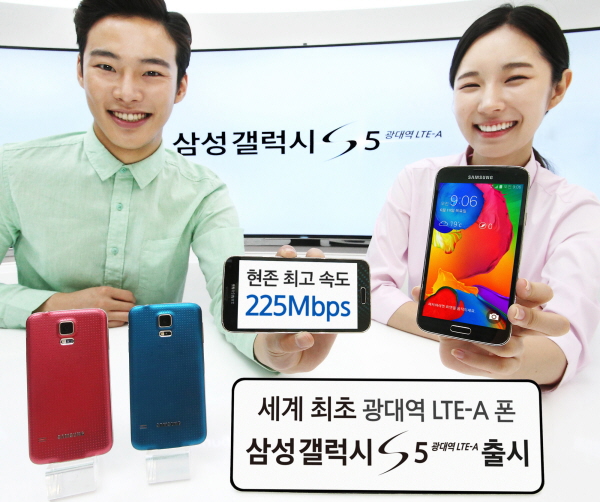 The Samsung Galaxy S5 can get easily lost in a crowd of Android flagships. Compared to any of its well-known rivals, like the HTC One (M8) and Sony Xperia Z2, it fails to differentiate itself when it comes to screen resolution, processor choice and RAM capacity. And, compared to the more recent LG G3, it clearly loses the fight.
Some folks expected Samsung to release the Galaxy S5 with Qualcomm's mighty Snapdragon 805 processor and a higher resolution display, which would have given it the edge over the increasingly fierce competition. Now, the South Korean maker is doing just that, by adding a better version of its flagship smartphone to the lineup. Meet the Galaxy S5 LTE-A.
This is not the first time Samsung introduces an LTE-A (LTE-Advanced) version of its Android flagship, as the company did the same thing last year with the Galaxy S4. This year's model enables consumers to reach download speeds of up to 225 Mbps, which is as much as South Korean mobile operator SK-Telecom is now promising. It is not a coincidence, as the Galaxy S5 LTE-A was only announced in Samsung's home country (so far, at least). And, it will reach SK-Telecom, as well as KT and LG U+. Now let us tackle the other specs.
The Galaxy S5 LTE-A packs a 5.1-inch Super AMOLED display with a resolution of 1,440 by 2,560 (referred to as WQHD), and is powered by a 2.5 GHz quad-core Qualcomm Snapdragon 805 processor with 3 GB of RAM that is backed by a 2,800 mAh battery. It also offers a 16 MP main camera and a 2 MP secondary shooter, runs Android 4.4 KitKat with Samsung's skin on top, measures 142 x 72.5 x 8.1 mm and weighs 145 grams. There are a couple of more available color options compared to the standard model, namely black, blue, copper, gold, pink, red and white (you can read the exact names in Korean here -- the page is now down, but you can access a cached version).
The cost of owning the best Galaxy S5? In South Korea, it is ₩940,500 (roughly $919). There is no word yet on international availability but, like its predecessor, I expect it to slowly make its way to other markets, most likely as gray imports, if Samsung does not launch it officially.