Huawei Ascend G6: Affordable 4G smartphone [Review]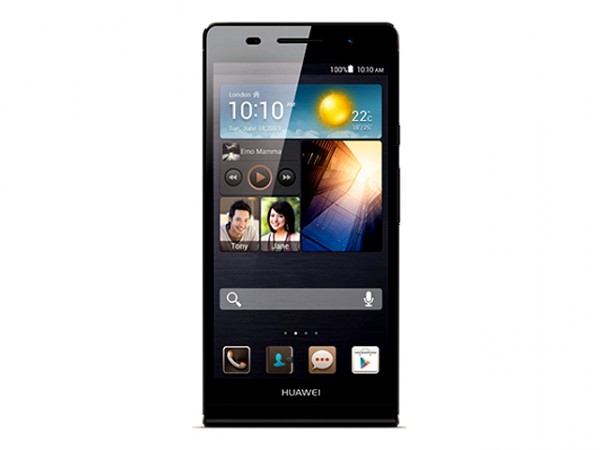 I was quite a fan of the Huawei Ascend P7 when I reviewed it last month, noting that it was a worthy flagship phone. At the high-end of the market, Huawei's problem is less what it does with its handsets, and more the profile it gets as a company in competition with the likes of Sony, Samsung and HTC.
The Ascend G6 is not a flagship handset. It is currently available for around £225 SIM-free as a 4G handset, and an otherwise identical 3G version will be around £185. It is a good comparator for the new £235 HTC Desire 610.
However, the Ascend G6 has two potential problems -- and neither has anything to do with the phone itself. It may suffer because Huawei's profile is relatively low, but it may also flag because Huawei makes the EE Kestrel. This is an own-brand 4G handset that's recently been launched by EE at £99 on PAYG (Pay-As-You-Go), and contracts as low as £13.99. I've got a Kestrel and will review it in due course, but it is worth noting there are some startling similarities between the two handsets both inside and out.
Anyway, on to the Huawei Ascend G6 itself.
If you have looked at any recent Huawei handset reviews you will instantly recognize the trademark physical design feature of a rounded bottom edge which differs from the flattened long and top edges. It's a clever tweak that helps Huawei's handsets stand out while not being visually jarring.
The problem with the design is that the curve means that the charge slot can't go on the bottom, so in this case it has been positioned on the top edge of the phone. That's probably not going to cause you that much grief, though I find it is more awkward to take calls when the phone is charging if the cable is poking out of the top of the handset as opposed to the bottom.
In fact, the design fault –-- and I do think it is a fault -- is that the headphone port is at the bottom of the left long edge. That means the connector pokes out of the side of the phone, making slipping it into a pocket tricky, and leaving you at the risk of jarring the connector. It's the same problem Huawei had with its flagship Ascend P6, which was fixed for the Ascend P7.
Unlike the higher-end Huawei handsets, the build material of choice here is plastic, though the three non-curved edges have a brushed metal sheen to them that's both attractive and easy on the eye. The backplate has a semi-rubbery finish that helps with grip, and it comes off to reveal slots for the microSD card and microSIM. The battery isn't removable, though. Power and volume buttons are on the right edge, easily accessed for one-handed use. They're both nicely raised, so that they are easy to locate when you want to adjust music volume without removing the phone from your pocket or bag.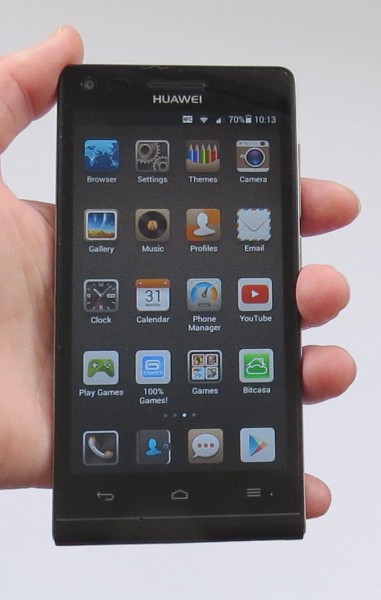 The Huawei Ascend G6 is incredibly light at just 115 grams, but it feels solid in the hands. This is an average sized phone by today's standards, with a 4.5-inch screen sitting inside a notable but not oversized bezel. It is nice to see the Android capacitive buttons below the screen area rather than taking up some display space by being part of it. I found these buttons needed a reasonable press rather than a light touch -- more so than the screen itself which was very responsive.
On paper the screen is disappointing with a resolution of just 960 x 540 pixels -- but in fact it is fine for most tasks. I was even fairly happy reading an ebook, though I tend to prefer larger displays for video and web browsing these days. The auto setting seems to take brightness a few notches lower than I like, no doubt to help battery life, but it is easy to override the auto feature and set the brightness level manually.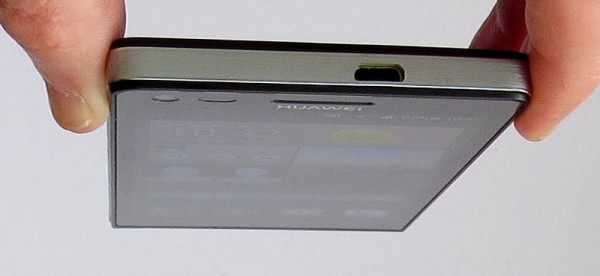 The quad-core Qualcomm processor runs fast enough for everyday use, and having 1GB of RAM to help it out is a plus. If you don't push it by running too many apps at once it should do well. In this respect, Huawei provides a little helper in the shape of its Phone Manager app. This can scan the handset's memory and let you clean the cache, close down apps and so on to keep the G6 running smoothly.
In fact, Huawei's user interface is one of the things that makes its handsets stand out. Emotion UI, as it is called, doesn't have an app drawer; instead apps sit on home screens. This encourages you to get rid of apps you don't use as you're always looking at their icons, and to keep things orderly by using folders. It is not the norm, but I've been won over to it through regular use.

It is nice to see NFC here, and there's 8GB of memory on board, reduced to 5.5GB by what's pre-installed, including Huawei's Emotion UI, apps, and Android 4.3. It would have been nice to see Android 4.4 here, of course, but Emotion UI does have some neat features including a range of themes and some add-on apps that might be useful. Indeed, where others can be accused of bloating their handsets with apps, I'd say Huawei's extras are often handy utilities.
I've already noted the Phone Manager app and there's also a DLNA app, notes app, weather app, FM radio, file manager, tool that backs the handset up to microSD and a few more. There are also some power saving settings you can apply to stretch the 2,000mAh battery and each of these provides an estimate of how long you will get if you use them. Huawei's stock in trade 'simple' home screen design is also here -- it gives you three screens of large icons rather than the more complex standard view.
The presence of two cameras is no surprise but Huawei has managed to add something distinctive. The front camera shoots to 5 megapixels, a relatively high resolution designed to appeal to selfie fans. Both it and the rear-facing 8 megapixel camera have a feature called Sound and Shot which lets you capture a ten second sound clip to go with stills. Both cameras also have a Beauty mode, which supposedly smooths out wrinkles and such. I found it delivered uneven results and it's just a bit silly, really. The back camera also has the current flavour of the month feature, HDR.
Verdict
The Huawei Ascend G6 is a lightweight yet robust handset. The headphone slot is poorly placed, but the rest of the design is pleasing. There are some nice software extras, and the price seems quite attractive until you consider the EE Kestrel and, almost inevitably, the new 4G version of the Motorola Moto G.
Specifications
| | |
| --- | --- |
| Manufacturer and Model | Huawei Ascend G6 |
| Network | 4G |
| Processor | 1.2GHz quad-core Qualcomm Snapdragon 400 |
| Ram | 1GB |
| Memory | 8GB (5.49GB accessible) |
| Memory expansion | microSD |
| Display | 4.5in, 960 x 540 pixels, 245ppi |
| Main camera | 8 megapixel |
| Front camera | 5 megapixel |
| NFC | Yes |
| Wi-Fi | Yes |
| GPS | Yes |
| FM radio | Yes |
| Battery | 2,000 mAh |
| Size | 65 x 7.5 x 130mm (WxDxH) |
| Weight | 115g |
| OS | Android 4.3 |
Published under license from ITProPortal.com, a Net Communities Ltd Publication. All rights reserved.