Lumsing DCH-5U 5-Port USB Travel Wall Charger [Review]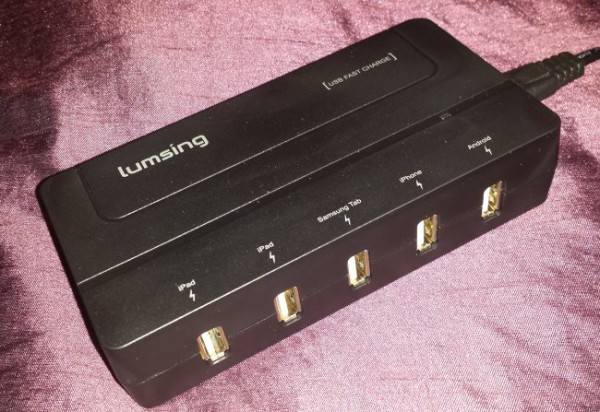 A few weeks ago I took a look at Lumsing's harmonica battery pack. Now from the same stables comes the lengthily titled DCH-5U 5-Port USB Travel Wall Charger. This is a slightly different twist on the idea of providing power to travellers' devices -- this is a wall charger rather than a portable battery pack. If you're going on vacation, taking a trip, or even just hitting the office, there are your devices to consider. Your phone, tablet, MP3 player, and other bits and pieces all need power, all need their own charger.
Except they don't. Leave all of your chargers at home, and just take a selection of USB cables -- this 5-port hub allows for up to five USB devices (obviously) to be charged from a single wall power point. The 31W/6.2A unit has two 5V 1A ports for phones, and three 5V 2A ports for tablets and devices with higher power demands. Oddly, the ports are labelled, left to right, iPad, iPad, Samsung Tab, iPhone, and Android. It would have made more sense to simply indicate which of the five were the high-powered ports, but this is a minor niggle in the grand scheme of things.
Looks-wise things are a little on the utilitarian front -- which comes as something of a disappointment following the battery pack's pleasing aesthetics -- but this is a unit that's here to get a job done, not win beauty contests. Measuring 137 x  68 x 31mm and weighing in at 272g it's pretty portable -- certainly a better option that carting around five individual wall chargers for all of your devices.
But it's not just suitable for traveling with. Forget the multiway extension lead by the bed -- stick this on the bedside table and you (should) have enough ports for all of your overnight charging needs -- unless you're particularly greedy with the number of devices you need to juice up at night. It would have been nice to have a selection of USB cables thrown in the box, but even as it is this is one of those desktop (or bedside) devices that you can very quickly come to rely on. There's scope for charging all manner of USB devices, including Chromebooks, and at $19.95, it's a snip!
Up-coming competition!
If you like the sound of this handy charger, you could head over to Amazon and buy one for yourself. But if you fancy the idea of saving your money, just watch this space. Very shortly we'll be running a contest with a Lumsing DCH-5U 5-Port USB Travel Wall Charger up for grabs as the prize. This will be a pleasing international competition -- the prize can be shipped to US, UK, EU-based countries and Japan.
Details to follow soon!