Lumsing's sexy 'Harmonica Style' battery pack delivers power on the move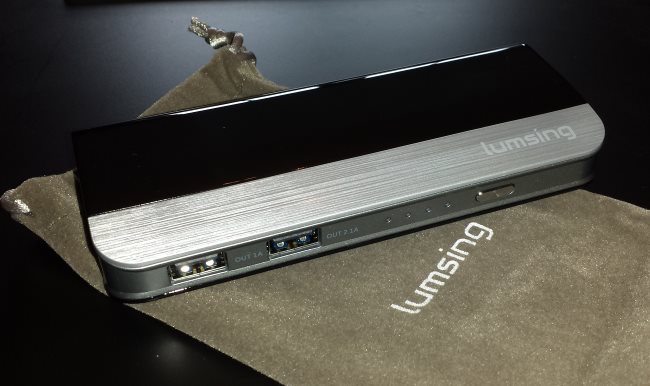 Battery packs may not be the most exciting or sexiest gadgets on the market, but the LUM-008-01 Power Bank from Lumsing has a good stab at changing things. But stabbing isn't the first thing that comes to mind when picking up this battery pack for the first time. Yes, the manufacturers "Harmonica style" description is fairly accurate but this is a unit that is rather weightier than the handheld instrument favored by blues and folk musicians. The mass of 236g (8.3oz) coupled with the way it nestles in the hand brings to mind a form of cudgel; this is a battery pack that could double as a murder weapon. Maybe that's just me... I should probably evaluate it for what it is.
Let's cut to the chase. This is a battery pack. There's a limit to how animated one can get about such a device, but Lumsing's offering gets off to a great start by being so easy on the eye. It's good to look at, and it also feels good in the hand. Style drips from every port. In all there are three ports: one USB input for charging the unit itself, and two outputs for charging other devices such as mobiles and tablets. There's one low powered 1.5 A port and one rated at 2.1 A so there's scope for charging all manner of devices.
Packing 10400mAh, there's enough capacity here for at least a couple of phone charges, and you can keep an eye on how much juice is left by hitting the power button on the case. Four blue LEDs indicate the charge level -- again with style -- and a cable is supplied for connecting the power pack to a laptop to soak up a charge. Sadly there's no wall charger. A soft-touch carry-case is also provided, but there are no built in cables nor other means of connecting other devices -- you'll have to use the original cable.
Available in black or white, Lumsing's battery pack is a cheap form of portable power. For some reason the white version costs $23.99 while the black version costs $24.99. Both have a suggested retail price of $49.99, so there's a great saving to be made on the paler unit, but the extra dollar is a small price to pay for the sexy look of the black one (it would also hide blood stains rather more effectively than its paler sibling). In terms of day to day use, this unit is certainly a lump of extra weight you'll notice in your bag -- lighter models are readily available. But it gets the job done, and helps to build up a little muscle at the same time. Bonus!
Something to bear in mind: if you do use it as a murder weapon, you might need to invest in a real harmonica to help pass the time. While this battery pack is great for keeping your devices charged -- both in and out of prison -- it is rather more limited as a musical instrument.