Galaxy Apps: Samsung's latest attempt at a popular Android app store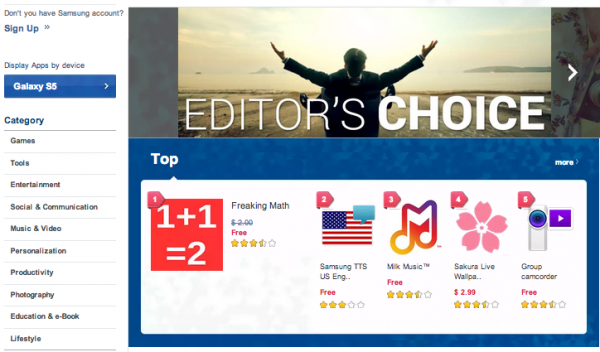 Let's face it: there are only two major app stores in the mobile space. One is Apple App Store and the other is Google Play. That is due to their huge app selection, which was long passed the one billion apps mark in each case, and the quality of the available offerings, which often tops that of other app stores.
On the iOS side of things, there is virtually no competition due to the platform's closed nature. On Android, however, Google Play's success stems from the popularity of Google-vetted devices, which tops that of handsets running forked versions of the operating system (that are not approved by Google). Still, one vendor had the potential to give Google Play a run for its money -- Samsung.
The South Korean maker -- the largest phone and smartphone vendor (that includes Android, too) -- has tried to impose its own Samsung apps as the de-facto app store on its own Galaxy devices, which also offer Google Play access, but failed to do so thanks, in no small part, to the lack of developer interest (and, therefore, the lack of killer apps) and user interest alike.
After all, why would someone develop only for Samsung's Android handsets when they can release an app that works across most -- if not, perhaps, all -- Android devices? And, why would Galaxy users, who could get all the right apps in Google Play, embrace Samsung Apps? There is just no benefit in that, at least none that is apparent.
Samsung, however, is not giving up yet, as it relaunches its app store for Galaxy devices as Galaxy Apps. The South Korean maker is leveraging the popularity of the Galaxy brand now, but what does it have this time that can convince users to give it a go?
"At Samsung, we continuously strive to create value for our customers by providing differentiated solutions and services coupled with innovative devices", says Samsung Media Solution Center president WonPyo Hong. "Samsung Galaxy Apps is an extension of that promise, as it offers our customers exclusive apps to enrich their experience".
Samsung says there are "hundreds" of Galaxy-exclusive apps in its new app store, which is touted to be an "improvement" over Samsung Apps. What do they offer? More customization options, and a way to get more "promotions and discounts". It also makes exploring and finding apps easier than before, and offers business-friendly offerings. That does not sound like much, right now at least, considering the plethora of similar apps available in Google Play, and other places.
Galaxy Apps has the potential to end up just like Samsung Apps -- an icon most Galaxy owners do not ever tap on -- unless the South Korean maker figures out a way to get developers to release thousands of value-adding exclusive offerings as soon as possible. And that sounds like a far-fetched scenario in my opinion.