Dashlane revamps user interface, unveils new shared features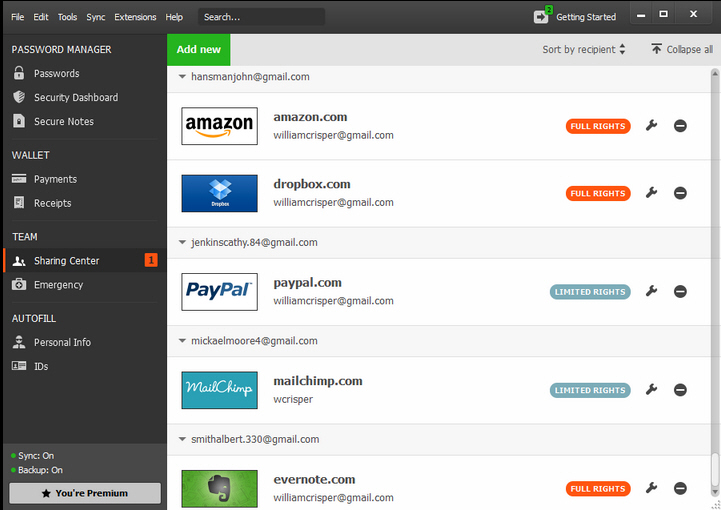 Dashlane, Inc has released Dashlane 3.0 for Windows and Mac, a major new build of its secure password management tool. The new release is joined by Dashlane 2.7 for iOS, which has been updated to work with version 3.
Version 3 sports a completely redesigned user interface, adds a number of new tools, including a Sharing Center, Emergency Contacts section and a simpler way of viewing password histories.
The new Sharing Center, which is accessible from Dashlane's main menu, is designed to allow users to both create and manage shared passwords and notes. Users get an at-a-glance view of what's shared with whom, and can filter the list a number of ways.
As well as viewing current access rights, users can manage each shared item directly from the Sharing Center panel. Two levels of sharing -- full and limited -- are available, and the tool allows users to share sensitive information securely rather than via email or other unencrypted channels. Target users will, however, need their own Dashlane account to use the feature.
The feature is joined by a new Emergency Contacts section -- here users can select people for the express purpose of sharing data only in emergencies. Trusted contacts can be given provisional access to all or part of the user's passwords and notes.
The feature allows users to share data in specific circumstances, and can also be used as a failsafe if they forget their master password without actually having to disclose it to anyone else.
Contacts can then request access to the data -- typically at the user's behest -- which is granted only after a set period has elapsed. That period is three days by default, but can be anything up to three months.
Users are notified of the request, which they can either allow or block at any time during the waiting period. If the waiting period expires however, the contact is given access to the user's data. Once granted, users can revoke access at any time.
Version 3 also adds two new options to the Tools menu: View Password History for easy access to previously used passwords, and Refresh Website Icons for updating icons in the user's Password List.
PC users also gain a button for selecting all items in a category with one click, quick-action buttons that appear when rolling the mouse over credentials and improved display on high DPI screens. Mac users gain revamped search results.
The update is rounded off with unspecified "major enhancements to speed and performance".
The new iOS version adds compatibility with Dashlane 3 and fixes issues related to data syncing between devices. The latest Android build -- released a month ago -- already supports the new version of Dashlane.
Dashlane 3.0 is available as a freeware download for Windows and Mac, while Dashlane 2.7 for iOS is also available free for iOS 7-powered iPhone, iPad and iPod touch. Also available is Dashlane for Android 2.5.12. A premium account is also available, with prices currently $29.99 per year for secure account backup, sync across all devices, unlimited secure sharing, access to your passwords through a web browser and priority support.