Spotify to appear on Vizio Smart TVs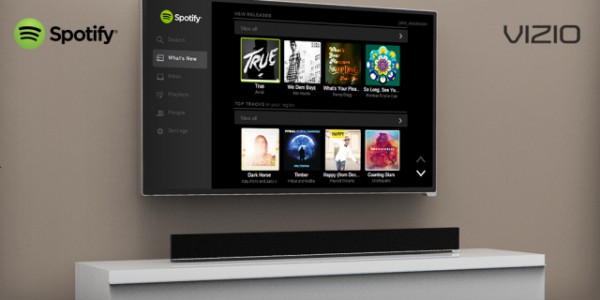 Smart TVs and Blu-ray players have become all the rage these days, with customers using them to replace the need for a set-top box, though in most cases apps can be limited. So when a new one debuts on a platform it can be a big deal to customers who invest in that particular device for their living room.
Now Spotify announces it will be making its way to Vizio TVs. The app will begin appearing for download in the Internet Apps Plus store right on the big screen.
"This cooperation with VIZIO is another great step towards our goal of making all the world's music instantly available on every platform", says Pascal de Mul, the Global Head of Hardware Partnerships at the streaming service.
Meanwhile, Vizio chimes in "We're excited to launch Spotify on VIZIO Internet Apps Plus and its huge library of music to our customers", says chief technology officer Matt McRae.
The app is available right now for all 2014 model E-series and M-series sets. There is one catch (isn't there always?) -- you'll need a Spotify Premium account to take advantage of the feature. This will set you back $9.99 per month, which seems to be the going rate for streaming music services these days.