Logitech reveals the world's fastest gaming mouse -- G402 Hyperion Fury

PC gaming is a really awesome pastime. While some people prefer console gaming, it is strictly a matter of preference. I like both, but I particularly like the gamification of PC gaming hardware. In other words, the actual building of the gaming PC and buying of cool peripherals can be as fun as the games themselves. Hell, it can sometimes be more fun.
One of the most fun peripherals to buy for a gaming PC is the mouse. Unfortunately, far too much emphasis has been put on appearance lately, instead of performance. Don't get me wrong, a gaming mouse should look cool and sexy, but only as a secondary focus. Today, Logitech announces a mouse that meets the needs of performance and appearance-driven consumers, with the G402 Hyperion Fury. The company claims that it is the world's fastest gaming mouse. Is it faster than Speedy Gonzales?
"Today we're excited to introduce the fastest gaming mouse ever made, the Logitech G402 Hyperion Fury Ultra-Fast FPS Gaming Mouse. This mouse features Logitech's exclusive Fusion Engine sensor technology that can reliably track over 500 inches per second (IPS) and Logitech's exclusive Delta Zero sensor technology for unrivaled accuracy", says Logitech.
The company touts the following features and specs:
Features
Fusion Engine hybrid senor
8 programmable buttons
On-the-fly DPI Switching
32-bit ARM processor
1 millisecond report
High-speed clicking
Full-speed USB
Tracking
Resolution: 240-4000 dpi
Max. acceleration: >16G*
Max. speed: >500 ips*
* Tested on Logitech G240 Gaming Mouse Pad
Responsiveness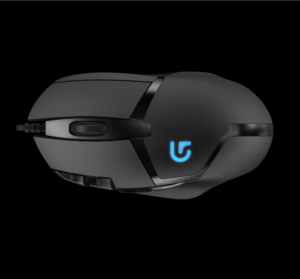 USB data format: 16 bits/axis
USB report rate: 1000 Hz (1ms)
Microprocessor: 32-bit ARM
Glide
Dynamic coefficient of friction -: .09 µ (k)*
Static coefficient of friction -: .14 µ (s)*
*Tested on wood-veneer desktop.
Durability
Buttons (Left / Right): 20 million clicks
Feet: 250 kilometers
Physical specifications
Weight: 144 grams (mouse plus cable)
Weight: 108 grams (mouse without cable)
Length: 136mm
Width: 72mm
Height: 41mm
Cable: 7ft
Wow, that is quite impressive. As you can see, the G402 offers on-the-fly DPI changing via up and down buttons -- rather standard nowadays. Also, it features 8 programmable buttons -- perfect for assigning different tasks or weapons to the buttons of your choice. I am happy to see that it is wired, rather than wireless, as gamers will not be interrupted by dead batteries.
If you are interested, you can pre-order the mouse here for $59.99. Will you buy it? Tell me in the comments.