Microsoft announces Windows Phone 8.1 Update 1, Cortana coming to new markets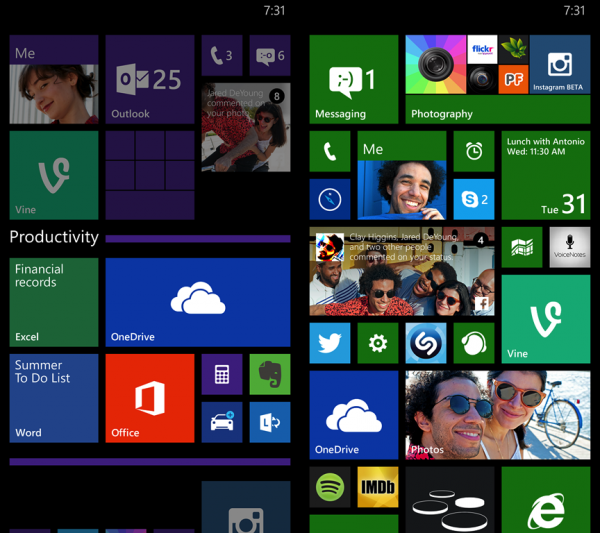 Today, Microsoft announces the first major update for Windows Phone 8.1, called Update 1. It introduces new features and improvements over the version which the software giant unveiled earlier this year at Build 2014, and makes way for Cortana to arrive in new markets.
In Windows Phone 8.1 Update 1, Microsoft adds Live Folders, allowing users to group live tiles on the Start screen. Like the name suggests, it is able to display updating information on its tile, coming from the items it contains. A live folder can be created by dragging a live tile on top of another.
For those of you who are following our Windows Phone coverage this feature has been known to be available come the first Windows Phone 8.1 update. Microsoft inadvertently revealed its introduction late last month, including how it works.
A number of developers (including Nokia) are already offering apps which allow users to group live tiles into folders, but the implementation is lacking. The so-called folder is just an app's static tile, and tapping on it brings up the app which offers this functionality.
Alongside Live Folders, Microsoft also gives Store a live tile of its own, which informs users about what new apps and games are available on Windows Phone. Updates are set to occur every six hours, which means the Store's live tile will be light on battery use.
In Windows Phone 8.1 Update 1, Xbox Music benefits from performance improvements, which affect parts like the app's loading time and list scrolling. Microsoft says it brought back some features, like background syncing of the user's collection and swipe to advance, but it will also bake in new ones like quickplay of recent activities and support for Kids Corner. You may notice that some changes are already available in the app's current iteration, but Microsoft says others are exclusive to Windows Phone 8.1 Update 1.
The stock messaging app gets support for selecting multiple SMS messages for deletion and forwarding. App Corner is a new feature introduced in Windows Phone 8.1 Update 1, which is designed to allow businesses to choose which apps their employees are allowed to run, and which app to automatically open after the tiled smartphone operating system loads.
Microsoft says it is also improving data and identity protection on public networks. One way this is achieved is by giving users the option to transfer data through a VPN (virtual private network) while on a Wi-Fi hotspot.
Cortana
Windows Phone 8.1 introduces Cortana as a beta to users in China (where it will be known as "Xiao Na") and UK, and as an alpha to folks in Australia, Canada and India. The Chinese-optimized version comes in "an alternative form" with a different look and sound. The personal assistant offers features local users may appreciate, like information regarding air quality in weather cards and driving restrictions.
The UK version gets its own optimizations too, with Cortana supporting the UK pronunciation and spelling of English words. Its personality has been, according to Microsoft, "tweaked to be more locally relevant".
Windows Phone 8.1 users in US who rely on Cortana also benefit from Update 1, as it gives the personal assistant access to new natural language scenarios, snooze times for reminders, "a number of neat additions to her personality (try asking 'do an impersonation' and see what happens)", and the ability to be invoked in the car hands-free through a Bluetooth kit.
Those in Australia, Canada and India can try Cortana using UK or US English, as an opt-in feature.
When Is It Due?
Windows Phone 8.1 Update 1 will be made available next week to those who have enrolled in the Preview for Developers program, and will be officially available to consumers starting in the "coming months".