Microsoft unveils Word, Excel and PowerPoint for iPad 1.1, adds user-requested features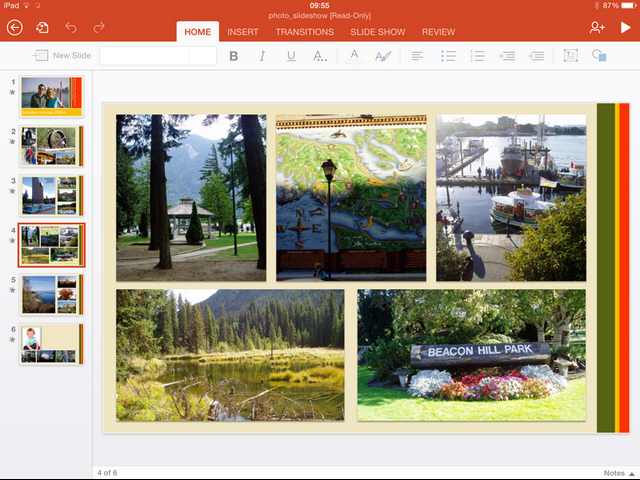 Microsoft has unveiled the first major update to its stable of iPad Office apps with the release of Word for iPad 1.1, Excel for iPad 1.1 and PowerPoint for iPad 1.1.
All three apps gain exclusive new features, but all gain the ability to export documents to PDF, improved picture editing tools and support for third-party fonts.
The enhanced picture editing tools now allow users to crop into photos to focus on specific areas. A new reset button also makes it easy to undo any changes made. Access to third-party fonts is found through the existing Font menus, while the PDF option is available when sending documents from any of the apps.
Excel and PowerPoint users also gain a number of other exclusive features too. Excel users can now use a "flick to select" gesture on a cell's selection handle to either select the entire row (flick left or right) or column (flick up or down).
Excel for iPad 1.1 also gains external keyboard support, making it possible to use the same keys to input data and navigate around a worksheet as found on the Mac or PC. Also added is the ability to interact with PivotTables whose source data is found in the same workbook.
One final Excel enhancement sees a wider range of print options, with more paper sizes and scaling options providing greater control over the layout of workbooks when printing.
PowerPoint users gain a new Presenter View, with the ability to view and edit speaker notes, preview the next slide and jump to other slides while presenting. Users can now also play video, sound effects and employ background music during presenting too.
Additional Presenter Tools have also been added, allowing users to erase highlights and drawings when presenting. The final improvements see support added for inserting and editing hyperlinks in presentations along with video from the iPad's Camera Roll.
Word for iPad 1.1, Excel for iPad 1.1 and PowerPoint for iPad 1.1 are all available now free for iPads running iOS 7 or later. While users can open and view documents for free, a valid Office 365 subscription is required for full functionality, including editing.