Download Ninja is a fast, flexible and free download manager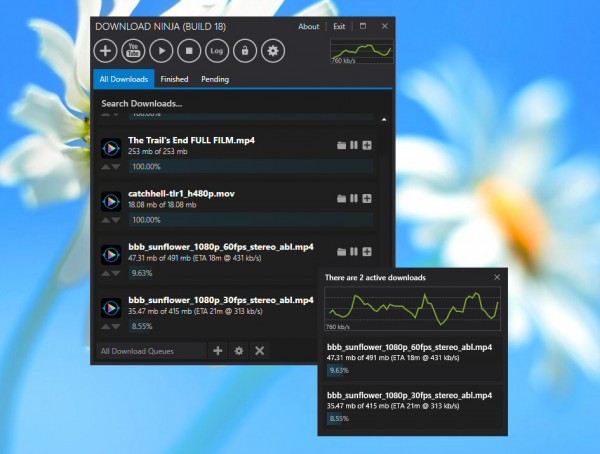 Downloading files is easy -- click a link, click "Save", usually -- and if you need more features then most browsers have a range of free add-ons which can help.
But for real power there's no substitute for a stand-alone download manager like the new Download Ninja.
The program is entirely free, no adware, not as much as a "Donate" button. Just a 15MB download which quickly installs, leaving a new icon in your system tray.
Getting started is as simple as copying a link to the clipboard. A pop-up alert is displayed, and if you want to download the file, just click this, select "Quick Add", and it'll be added to Download Ninja's queue.
The program claims to support downloads from 200-plus media sharing sites, as well as regular http links (with authentication, if necessary). It can't handle ftp or BitTorrent, but still performs well for a relatively new tool.
By default Download Ninja uses up to ten simultaneous connections to improve performance. Files are still downloaded from the start to the finish, though, so you may be able to preview audio or video files before the download has finished.
There's plenty of control over the download process. Individual files can be added to the front of the queue, if they're high priority. You're able to assign files to separate queues, and they can be set up to run on different schedules, with individual bandwidth limits.
Extras include a "shred" option which securely deletes specified downloads, ensuring they can't be recovered later.
And if it's too much hassle to keep switching away from your browser, no problem -- Download Ninja has its own Chrome and Firefox extensions.
There are also some issues. We wanted the pop-up "link detected" alert to be displayed for longer, so we had more time to click it -- but this isn't configurable. And for some reason the Download Ninja window occasionally became an empty black rectangle, with nothing visible at all until it was refreshed (right-click the system tray icon, select Show…).
Still, considering Download Ninja had its first public release only seven weeks ago, a few technical problems are to be expected. Overall it's a promising download manager which shows real ambition, and we'll be interested to see where it goes next.