BiTMICRO launches high capacity SSDs for the enterprise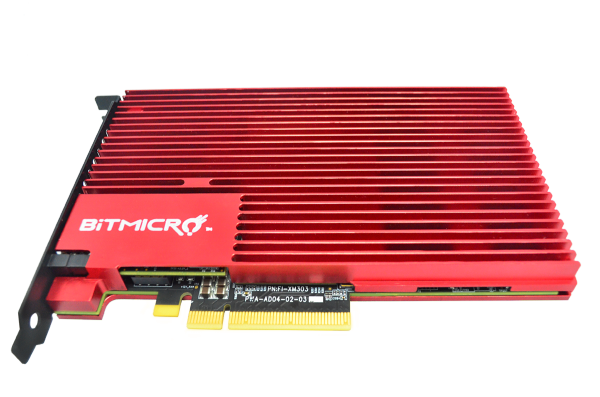 The way that many enterprises use data places heavy demands on storage, both in terms of capacity and performance. Whilst SSDs can solve the performance issue they don't always offer the capacity required.
California-based BiTMICRO is a pioneer of SSDs having been involved with them since 1999. With the launch of its new MAXio E-Series PCIe drives it's aiming to deliver capacity, performance and reliability for companies that need to support high volume application workloads.
Based on the company's Talino ASIC Architecture the drives offer high capacity with a starting point of 1.5TB which is higher than most competitors. They also ensure integrity of the data with full Data Path Protection technology, from the moment data arrives at the host interface until it's stored on the NAND flash chips.
The range is aimed at enterprise applications with heavy load demands including video-on-demand, video streaming, online transaction processing, non-linear editing, gaming, file servers, web applications and cloud services.
"For years we have proven the value of our SSD technology in high-demand military and industrial computing environments such as air and space, military systems and mobile industrial solutions," says Zophar Sante, Vice President of Worldwide Marketing and Sales at BiTMICRO. "Now we are bringing this expertise to enterprise and mid-market customers. With MAXio E-Series SSDs, organizations of every size can achieve faster storage performance, greater reliability and true business availability".
Features of the drives include dynamic wear leveling to maximize the life of the flash drive's chips for up to five years, protection of data at the firmware level for minimum overhead, and easy to use management software allowing users to optimize drive settings.
The MAXio E-Series is available now in capacities from 1.5 to 6TB, C-Series models with capacities up to 12TB will be available next year. For more information on the range you can visit the BiTMICRO website.