YUMI creates custom multiboot USB drives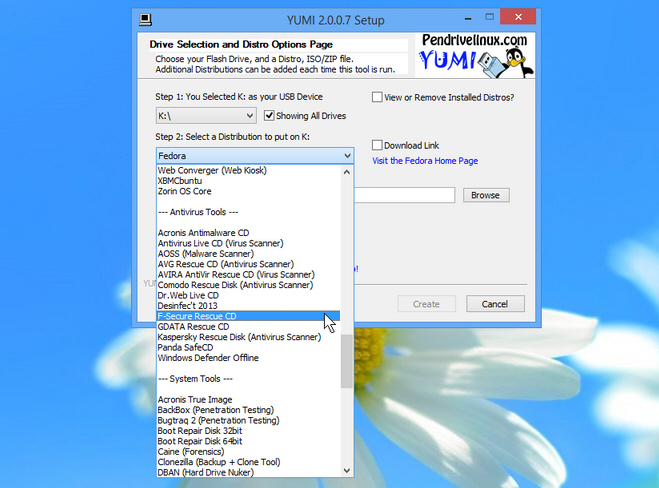 If Windows won't start then there are plenty of standard options you can try: Safe Mode, system restore, "last known good", and now Windows 8′s refresh options.
These technologies have their limits, though, and so it's wise to prepare a few other bootable environments of your own. An antivirus rescue disc, a partition manager, maybe a backup tool or system recovery suite.
You could download these and burn them to individual discs, but that's slow and inconvenient. YUMI will instead take your various images and combine them onto a single USB drive. You could equip this with four or five antivirus rescue discs, say, and just choose the one you need when you boot: that's much faster to load, and far easier to carry around.
Setting this up starts by downloading your first boot image. Look for it in the Distribution list (options include Ubuntu, Linux Mint, Fedora, AVG/ AVIRA/ COMODO/ F-Secure/ Kaspersky rescue discs, Ultimate Boot CD, Partition Wizard and many more), follow the link to visit the home page, or check "Download Link" to download the ISO right away.
If the ISO you want isn't on the list, select one of the "Unlisted Bootable ISO" options (in our experience these work most of the time), and download it manually.
Once you have the image, point YUMI at your destination USB drive (making sure there's nothing on it that you want), click "Create", and it'll quickly be configured.
Now repeat the process to select further images, and YUMI adds the new environment to your existing selections. Stop when you're happy -- or you run out of space -- and your custom rescue drive should be ready for use (although USB booting can be tricky, so we'd recommend you test each image before you file it away).